Jayde's nursing ambitions realised while supporting young family
Published on 01 May, 2013
Townsville student Jayde Luke said studying a Bachelor of Nursing at CQUniversity is her first step towards a potential career in Midwifery.
With two young boys aged three and six, the busy mother said it was time to start thinking about her career.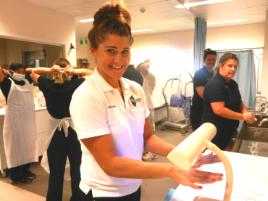 Townsville's Jayde Luke passes the scrub test at the Residential School in Mackay. "Ever since my two boys were born, I have been a stay-at-home mum. My husband is in the Army and can be away from home for lengthy periods at short notice, so on-campus education was not an option."
"I love the fact that I can become qualified and still be there for my family."
Although studying by distance education can be challenging with a young family, Jayde said the recent Residential School in Mackay allowed her to apply her skills in the new Nursing and Midwifery Laboratories at CQUniversity.
"I definitely under-estimated the work involved but it is not bothering me due to the fact that I love learning something I am passionate about which is the human body and communicating with people."
"The lecturers are all there to help and so are other distance students who in the same position as me so it works great - I am organised, motivated and still get to be home for my family."
She said enrolling in the nursing program at CQUniversity was a no-brainer.
"I love interacting with people and most of all helping others, so I thought nursing would be perfect.
"Since the start of my degree I told myself I would put everything I had into my studies, so I could look back after three years knowing I gave it my all."
With her first clinical placement coming up next month, Jayde said she is looking forward to learning more from professionals in the industry.
"Placement is what I've been looking forward to when I first looked into nursing."
"The fact that I get to practice what I have been learning in the first year makes everything worthwhile."
To find out more about enrolling in a mid-year distance education program, visit http://www.cqu.edu.au/explore