'Great Race' leads to greater expectations
Published on 26 June, 2013
Forty-two high school students have built more momentum towards their future study and career plans thanks to the annual 'Great Race' held on CQUniversity Rockhampton Campus recently...
CQUniversity's Widening Participation team hosted the event, which is designed to engage high school students in a range of problem-based learning team activities, in order to enhance their knowledge about the University and its resources.
LINK HERE for more photos from the Great Race event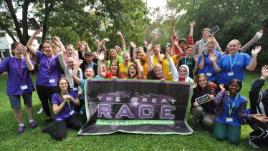 LINK for a larger image of this year's event in Rockhampton
High schools represented included North Rockhampton, Rockhampton, Glenmore, Yeppoon, Mount Morgan, Toolooa, Monto and Eidsvold.
Co-organiser Stacey Hixon says "it was great to see students from different schools working together and forming friendships". Her colleague Sarah Law says "this program is a fantastic experience for students, allowing them to have a lot of fun but also to learn skills and knowledge that will help them in their future university studies".
Great Race events will also be held on CQUniversity's Mackay and Bundaberg campuses on August 22 and October 17 respectively.
Some feedback from students:
One thing I learnt about myself:
I shouldn't be scared of uni as there are people who can help.
I can do things that scare me, and I can go to uni and study a range of (degrees) without having to stick to one thing.
It (university) gives you plenty of opportunities and it is nothing like school, (it is) flexible and you don't have to study full-time.
One thing I learnt about University:
There is help out there, and people can help you, no matter who you are there is support.
The part I enjoyed most about this program was meeting new people from other schools, working as a team and learning more about university.
The part of the program I enjoyed the most was the information we received about university.
This program has made me more determined to go to uni and become what I want to be.