Collaboration between international and domestic students discussed at Melbourne Campus
Published on 29 November, 2011
Assessment promoting collaboration between international and domestic students was one of the innovative ideas discussed during the annual CQUniversity International Education Research Centre Forum, held recently at CQUniversity Melbourne.
The keynote speaker this year was Associate Professor Chris Ziguras, Deputy Dean (Learning & Teaching, International) in the School of Global Studies, Social Science and Planning at RMIT.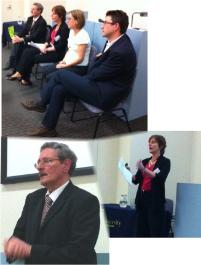 Images from the forum. LINK for larger imagesDr Ziguras presented several innovative ideas for assessment for first-year undergraduate courses, promoting social integration as well as engagement with real world texts and public readership.
Essentially, students can participate in a planned walking tour of their locale, with tasks to research and present on the historical and contemporary significance of points of interest along the walk. In an alternative approach, students research and re-develop a relevant topic on Wikipedia to improve the page and provide a rationale for how this is achieved, along with before and after copies of the page.
These assessment tasks have proven popular as well as challenging for students and encouraged learners to engage with each other as well as their local communities and online readers.
Other speakers included CQUniversity Melbourne IERC members Liz Sidiropoulos and Professor David Hamilton. Liz presented preliminary findings from an ongoing 'Education for Sustainability' project involving students and staff across metropolitan campuses, and David discussed ongoing analysis of data reflecting international student engagement with studies via a range of measures.
IERC Director Associate Professor Alison Owens said the event attracted an internal and external audience.
"It was an opportunity for university educators with an interest in internationalisation of education to get together and exchange a range of initiatives that can enhance the learning experiences of international students in Australia, while promoting integration for international and Australian students," she said.