Uni helps spark solutions for 'energy-intensive' region
Published on 20 October, 2011
CQUniversity has teamed up with Ergon Energy to address challenges faced by Central Queensland, as one of the most energy-intensive regions of Australia.
A joint workshop conducted by the University's Institute for Resource Industries and Sustainability (IRIS) and Ergon was held on Rockhampton Campus recently.
LINK for Older campus buildings targeted for energy savings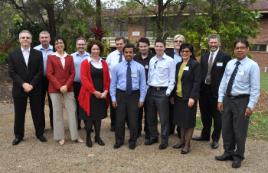 Bright sparks L-R Robert Wilson (Ergon), Glenn Walden (Ergon), Dr Anna Thomas (IRIS), Tony Loveday (Ergon), Leanne Fallow (Ergon), Greg Nielson (Ergon), Dr Amanullah Maung Than Oo (CQUni), Glen Robinson (Ergon), Blake Harvey (Ergon), Alastair Dawson (CQUni), Rosemarie Price (Ergon), Professor Chad Hewitt (CQUni), Professor Gopinath Chattopadhyay (CQUni)
The workshop focused on Ergon's challenges, including a fast-growing demand for energy, rising costs of electricity distribution and supply, aging assets and skills shortages.
The needs for energy conservation, demand management and the adoption of renewable energy solutions require an introduction of new technologies into the Ergon system, while ensuring an ongoing and stable supply of power to industrial and business customers and households.
IRIS has committed itself to better understanding Ergon's challenges and needs to ensure relevance of the University's research and educational programs, and for developing the necessary expertise and capabilities.
As well as discussing Ergon's needs, challenges and technology adoption plans, the workshop introduced CQUniversity's capabilities and experience in industrial R&D and delivery of education and training programs for industry partners.
Participants discussed potential projects for adoption of energy-saving solutions and plans for closer collaboration and communication.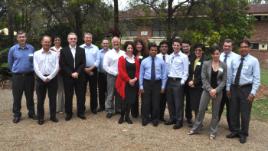 The event attracted a wide range of participants
While IRIS was the overarching organiser alongside Ergon, many other CQUniversity departments were involved including:
Centre for Railway Engineering;
School of Engineering & Built Environment;
Industry & Vocational Education Training;
Centre for Intelligent and Networked Systems;
Centre for Environmental Management;
School of Informatics and Communication Technology;
Power Engineering Research Group;
Centre for Plant and Water Science;
School of Management & Marketing;
Business Research Group;
Human Factors and Safety;
Information Technology Division.