Uni hosts gym program giving troubled teens a sporting chance
Published on 07 July, 2011
Troubled teenagers have a chance to turn their lives around thanks to the Carpe Diem Gym Program, now based at the CQUniversity Rockhampton Campus Gymnasium...
Darumbal Community Youth Service has thanked the University for hosting up to 80 young people referred by CQ Youth Justice Centre, secondary schools and concerned parents and guardians. The majority of program participants are young Indigenous males and they attend the program in small groups.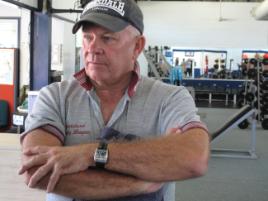 John Harbin ready to provide leadership in the Uni gym
The program is conducted by John Harbin, a local teacher, sports psychologist and rugby league coach who has worked professionally as a coach for leading football (soccer) and rugby league teams in England.
Mr Harbin says that, at first glance, the program is about health and fitness, with a bit of maths as well. However, the prime benefit is providing discipline and boundaries while showing troubled teenagers ways to overcome obstacles.
"We can demonstrate concepts ... if a weight seems too heavy, it can be shifted by getting help or by reducing the weight of stress involved ... if you smoke and drink your sports times will suffer the next day," he said.
Mr Harbin says the program has become more viable since moving to Rockhampton Campus this year.
Darumbal CEO Margaret Hornagold says many of the young people referred to the Carpe Diem Gym Program have struggled with anger management, depression and loss of motivation and identity.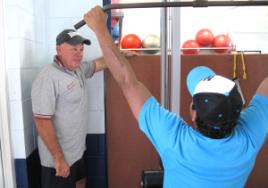 John Harbin give some lifting tips
"The program has assisted them with refocusing on their lives and their goals," she said.
"John Harbin is a motivational sports leader who has brought a wealth of experience back to Central Queensland based on his work in the United Kingdom. Feedback and evaluations show the program is working and enabling young people to become more settled in their school environment and to develop their self belief."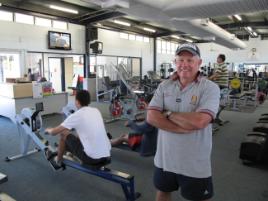 Young participants strive for better results