Students have finger on the pulse thanks to new labs
Published on 01 November, 2012
Third-year Nursing students Merinda Maritz, Kahla Edwards and Vicki Mulley have described how they've experienced a new approach to learning this year thanks to CQUniversity Mackay's new Nursing and Midwifery Laboratories.
The labs were officially opened by Mackay Hospital and Health Service Director for Nursing Julie Rampton on Tuesday, October 30, with industry health professionals, CQUniversity staff and students and community members attending.

Merinda Maritz, Kahla Edwards and Vicki Mulley demonstrate skills on new Nursing and Midwifery equipment. Since February this year, the state-of-the-art labs have enabled students to participate in authentic learning experiences through the use of modern clinical equipment.
The labs have been set up to replicate a clinical environment including eight nursing beds, life-like mannequins, scrub and nursing stations, hoist, iv pumps, syringe drivers, ECG machines, a simulation viewing room, a birthing bath and two birthing beds.
CQUniversity's Dean, School of Nursing and Midwifery Professor Ysanne Chapman said the labs have supported the University's growing nursing and midwifery cohort.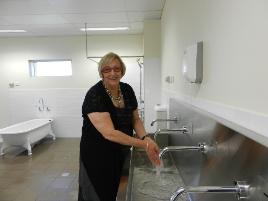 Professor Chapman is looking forward to welcoming the next batch of students into the labs."The laboratories have enhanced the learning experience for our nursing and midwifery students and staff at CQUniversity," Professor Chapman said.
"Students are using real equipment in scenarios similar to what they would experience in a hospital or clinical environment which has given them a strong level of confidence when attending clinical placement."
"These resources are vital and will enable us to produce passionate nurses and midwives for this region."
Ms Rampton said she was delighted to be officially opening the facility and was looking forward to continuing the partnership with CQUniversity's students and graduates.
"The new labs are a wonderful place for students to learn new skills and prepare them for a career in the health industry," Ms Rampton said.
"We are proud to be working with CQUniversity to grow the region's next generation of nurses and midwives."
The Mackay Campus has welcomed over $60 million worth of new facilities over the last three years, including new Medical Imaging and Sonography labs, Chiropractic facilities, a Library, student accommodation and Nursing and Midwifery labs.
Head of Campus in Mackay, Professor Pierre Viljoen said students in the region were beginning to see the benefits of studying at CQUniversity.
"Quality learning resources and facilities like the new Nursing and Midwifery labs are vital for such a fast-growing University in a region like Mackay - we need to provide modern students with the best learning experience possible."
Prof Viljoen said he was looking forward to more growth on campus as the TAFE Trade Training Centre facility prepares to open its doors and plans for the proposed Mackay Regional Sporting Precinct get underway.
"The Mackay campus has seen significant growth over the past few years but I expect we will see much more in the very near future as we prepare to become Queensland's first dual-sector university."