Rhiannon wins tablet for evaluating course
Published on 20 July, 2012
CQUniversity students who completed their course evaluations in Term 1 recently had the option to enter into a prize draw to win an iPad (3rd generation) or one of 300 x $20 iTunes vouchers.
The Office of Learning and Teaching has congratulated Rhiannon Schmidt on being the winner of the iPad. Rhiannon is a STEPS preparatory program student based on Bundaberg Campus. She intends to enrol in a Bachelor of Accounting with a Financial Planning specialisation after graduating from STEPS.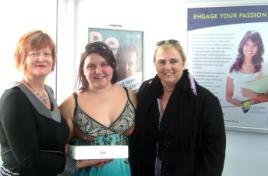 iPad winner Rhiannon Schmidt (centre) is congratulated by Karen Seary, Associate Dean, Academic Learning Services Unit (left) and Hermina Conradie, the Access Coordinator for ALSU on the Bundaberg Campus
Rhiannon completed Year 12 at Gin Gin High and embarked upon a Certificate 3 in Business. She says "STEPS has been an amazing experience".
"Not only have my teachers prepared me for what's to come but my peers have made my journey so positive and supported. I can say, without a doubt, that if I had not done STEPS, I would have failed my first term in a degree course".
The list of winners of the i-Tunes vouchers can be found on the Office of Learning and Teaching website. All students are thanked for completing the course evaluations. This information is vital to staff as they consider which aspects worked well, and which might be improved, as part of the University's on-going commitment to enhancing the quality of its courses.