Haylee has bright future at Mackay Campus thanks to BMC scholarship
Published on 24 August, 2012
CQUniversity Medical Sonography student Haylee Moran has settled into her degree program at Mackay Campus, and she's grateful for the peace of mind provided by her 'BMC Building My Career' Scholarship...
Now she's recommending that other students apply for the scholarships arranged by CQUniversity and BHP Billiton Mitsui Coal Pty Ltd (BMC).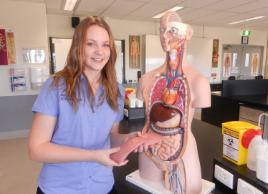 Haylee Moran has the chance to start her health career thanks to the BMC scholarships
Each scholarship entitles the student to free accommodation and three meals a day at the new student residence at Mackay Campus. This support is worth $60,000 to $80,000 per student for the duration of their studies. There are eight scholarships available each year.
Haylee is still in her foundation year but has already experienced a clinical placement in a hospital setting. The former Nebo resident says the scholarship gives her a chance to focus on her studies.
BMC Asset President Michael Rosengren says the scholarships enable students to access their local world class university with minimal impact to their budget.
"BMC understands that a potential roadblock to attending university for school leavers in the Bowen Basin can be the cost of living away from home," Michael said.
Applications are now open for the 2013 'Building My Career' Scholarships. Year 12 students from the Mackay, Isaac or Whitsunday regions wishing to study at CQUni Mackay in a non-mining field are encouraged to apply.
Visit www.cquni.edu.au/bmc for an application form. Applications for the next round of scholarships close on October 26, 2012.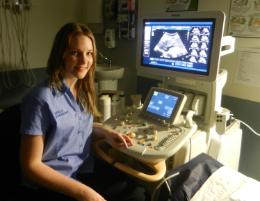 Haylee Moran gets the chance to use cutting-edge Medical Sonography equipment