Best of the CQUni Art Collection on display for one more week
Published on 17 May, 2012
The best of the CQUniversity Art Collection is being displayed until May 23 at Rockhampton Art Gallery.
This exhibition, which has already attracted 3400 visitors, is part of the 'Collection in Focus' series which explores the unique and diverse art collections of Central Queensland.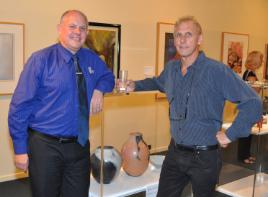 VC Scott Bowman chats with internationally recognised potter and ceramic sculptor Steve Bishopric, whose work is on display in the exhibition
The CQUniversity Art Collection currently holds more than 500 artworks, including significant 1970s works by Australian artists, historical works and contemporary pieces from international, national and local artists.
This exhibition brings together a selection of the finest works from the CQUniversity Art Collection and showcases historical, Indigenous Australian, Pacific Islander, European and Australian artworks across a diverse range of media.