CQUni Mackay connects with local training organisations
Published on 26 February, 2013
CQUniversity Mackay and Training Queensland recently hosted the first of four regional Training Reference Group meetings for around 30 training professionals.
The attendees included representatives from a wide range of stakeholders in the Vocational Education and Training Sector from both government and private organisations including Department of Education, Training and Employment (DETE), CQ TAFE, Group Training Organisations, Registered Training Organisations and Australian Apprenticeship Centres.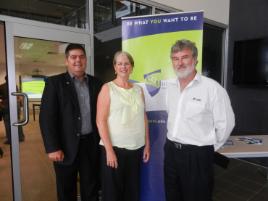 CQUniversity's Pro Vice-Chancellor (Community & Engagement) and Head of Mackay Campus Professor Pierre Viljoen, QCPD's Business Development Manager Lyn Forbes-Smith and DETE Director - Training for CQ Region, Peter McDuff. CQUniversity Pro Vice-Chancellor (Community & Engagement) and Head of Campus at Mackay, Professor Pierre Viljoen, presented a welcome to campus and update on the dual sector merger and vision for the Mackay campus.
The session included an update from Training Queensland and the recently opened Mackay Engineering College (MEC). Lyn Forbes-Smith showcased CQUniversity's Queensland Centre for Professional Development (QCPD) and invited members to consider mutually-beneficial opportunities to partner with the University.
Members participated in a tour of CQUniversity Mackay and its facilities, as well as a tour of the state-of-the-art MEC by manager Frank Duthler.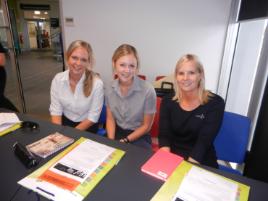 Tegan Kowitz, Carissa Morgan, Tara Thompson from MRAEL/ACE Apprenticeship Centre
...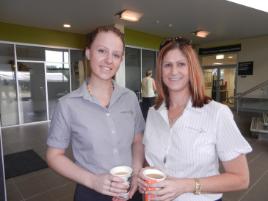 Megan Sonter and Petra Mould from MRAEL Training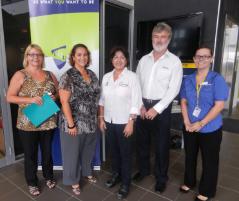 Sonya Osborne (CQ TAFE), Carla Dorante-Johnson (Training QLD), Sylvia Warren (Mackay Engineering College), Peter McDuff (DETE) and Sarah Poole (Training QLD).