African adventure cements future aspirations for Jessica
Published on 19 March, 2013
Close encounters with some of Africa's wildest animals may not sound like your typical university experience, but third-year Bachelor of Science student Jessica Scoble is living proof that not all learning needs to be done in the classroom.
Jessica spent 22 days experiencing the world of wildlife conservation in Southern Africa in early 2013, through the University of Pretoria's Centre for Wildlife Management's Eco Life Wildlife Management Expedition, as part of her program with CQUniversity.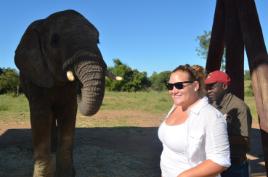 Jessica gets up close to the elephantsThe expeditions are in the form of a camping safari where students interact with rangers, veterinarians and researchers working in the field. Students can also earn six credits on successful completion of the expedition.
Visiting Pretoria, Johannesburg, the Drakensberg Region, Loksop Dam, Hoedspruit and many more areas of South Africa, Jessica learnt about management plans for private and national reserves in those areas.
She says the highlight was getting up close and personal with some of Africa's amazing wildlife.
"Handfeeding vultures, kissing a hippo, feeding a chameleon a live worm from my mouth, holding a tarantula, patting cheetahs and lions and getting accosted by monkeys are all good memories," she says.
"We visited an elephant centre where we participated in an interaction and also rode the elephants. We also visited animal rehabilitation centres and witnessed a calf being delivered by caesarean section.
"We dedicated three days to game drives in Kruger National Park and participated in darting, where we were able to dart a moving target from a helicopter.
"Survival was also an aspect where we familiarised ourselves with navigation and also plant identification."
While Jessica has seen her fair share of Australian wildlife (she has been a registered snake handler for the past five years), she said nothing prepared her for the environment she was exposed to during her study tour.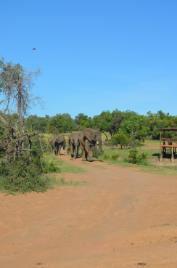 Close up to a herd of elephants"Kruger National Park was very special, the wildlife and the smell of the bush is just incredible," she says.
"Sleeping in tents and listening to the sounds of the bush veld are experiences on their own as well that I treasured."
CQUniversity's Science lecturer Dr Delma Clifton suggested the program to Jessica last year and said it was a great opportunity for students to apply their theoretical studies in a practical setting.
"The expeditions are a once-in-a-lifetime experience for students who are interested in that field of work."
Before the expedition Jessica also travelled from Kenya in East Africa to Uganda, Tanzania, Malawi, Zambia and Botswana with her partner, who proposed to her.
She said the program was really easy to be involved with and she would recommend to anyone.
"I have made heaps of friends, and potentially academic contacts, from the experience and had lots of fun."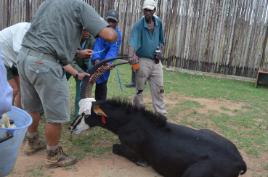 Jessica was part of a study tour in South Africa. To find out more about Eco Life Expeditions, visit http://www.ecolife.co.za/