Carbon farming specialists look to Rockhampton for latest research
Published on 28 March, 2013
Some of Australia's leading carbon farming specialists have visited CQUniversity to hear of the latest relevant research in their field.
Carbon farming encompasses a range of processes enabling organic material to be locked into the soil, or even boosted, thus improving soil quality while reducing carbon leakage into the atmosphere.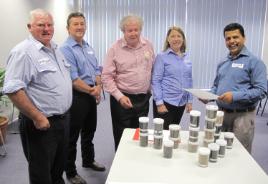 Stuart Larsson (Mara Seeds), Barry Wilson (FEECO), Michael Kiely (Carbon Farmers), Louisa Kiely (Carbon Farmers) and Dr Surya Bhattarai (CQUni)
Hosted at the Central Queensland Innovation and Research Precinct (CQIRP), a full-day program of speakers addressed the topic.
Visitors included husband-and-wife duo Michael Kiely and Louisa Kiely from Carbon Farmers of Australia, Barry Wilson from FEECO International and Stuart Larsson from Mara Seeds.
CQUniversity speakers included Professor David Midmore (carbon smart biofertiliser); Professor Kerry Walsh (rapid determination of soil carbon); Tanka Prasai (carbon smart biofertiliser from chicken manure); Professor John Abbot (facilities for biochar R&D); Assoc Prof Nanjappa Ashwath (land-based applications of biochar); Thakur Bhattarai (a community and catchment perspective); Kalpana Pudsaini (evaluation of biochar); Assoc Prof Mohammad Rasul (pyrolysis research); Dr Sandrine Makiela (soil health); Dr Karuna Shrestha (compost tea); Dr Surya Bhattarai (potential projects).