Health and wellbeing check as students begin university year
Published on 28 February, 2013
CQUniversity and headspace Mackay are banding together to support new and current university students to ensure they have access to support, information and services for their health and wellbeing...
In the wake of Orientation Week at CQUniversity, a number of staff members from the University's Student Support Services team, Nursing program and the Skills for Tertiary Education Preparatory Studies (STEPS) toured the newly constructed headspace Centre in Wood Street, Mackay.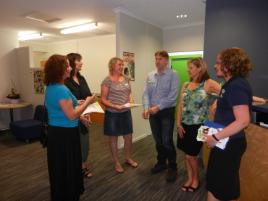 CQUniversity's Sandy McLellan, Michelle Whiley, Natalie Vonthien, headspace Mackay's Dr Phil Stacey and Sandi Winner and CQUniversity's Cynthy Reese.
Community Development Coordinator at headspace Mackay, Sandi Winner, said the partnership will provide university students with a direct link to mental health care before it becomes a crisis.
"Mental illness affects one in four young people," she said.
"70 per cent of people with mental illness first experience signs or symptoms while still an adolescent so it is very important to recognise these concerns early."
"Additionally, the transition years between high-school and further education are a peak period for young people to be confronted with stress and isolation of university life. If support is not there, it can result in mental health issues that the young person was previously unaware of."
Ms Winner said there are a number of factors that can heighten the pressure that is placed on a university student and it's important that they know where to access support if necessary.
"Things like stress, finances, changes in support network, like moving away from home or not having a close friend from their peer group on campus, coping with the increased freedom to express themselves while having a greater responsibility and managing time are all issues faced by university students."

headspace Mackay's Community Development Coordinator Sandi Winner and Mackay Youth Reference Group member Courtney Meng at CQUniversity's Orientation Week activities.
Representatives from headspace Mackay attended the Friday Fun Day of CQUniversity's Orientation Week on Friday, February 22 to meet with new students.
Students are encouraged to visit the Student Support Centre in Building 1, Mackay campus for more information or they can call headspace Mackay on 4898 2200 or visit http://www.headspace.org.au/
For young people who may find it difficult to get to a headspace Centre, there is an online centre EHeadspace. To find out more go to http://www.eheadspace.org.au/