Former '60 Minutes' reporter joins Cultural Diversity Forum in Gladstone
Published on 16 August, 2012
'Forging a pluralistic society and a community with shared values and interests' was the goal of a recent forum hosted by CQUniversity Gladstone, with national media personality Jeff McMullen contributing to the debate.
The 2012 Cultural Diversity Forum was presented by Welcoming Intercultural Neighbours (WIN) in association with other community organisations. It was supported by Australia Pacific LNG and coal seam gas explorer QGC.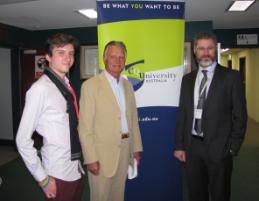 Professor Chad Hewitt (right) welcomes media personality Jeff McMullen and Youth Parliament rep Aaron Battinson to Gladstone Campus for the Forum
CQUni OH&S graduate Natalia Muszkat was one of the key organisers and featured speakers for the event, through her role as coordinator of WIN.
Meantime, Gladstone Head of Campus Professor Chad Hewitt contributed to a panel session entitled 'A Little Bit of Racism in us all'. Key discussion points revolved around taking a proactive stance against racism as an extension of zero tolerance in harassment or bullying.
"One discussion was around media attention to anonymous SMS messages and Tweets as a forum for overt racist statements, with no recourse or personal responsibility," Prof Hewitt said.
"Two aspects of that dialogue resulted: 1) the responsibility of diversity-minded people to speak up when an SMS or Tweet was posted in the racist mindset, setting the record straight that this is a minority view; and 2) adults have an obligation to demonstrate behaviours to children ... we cannot merely expect children to respond to the zero tolerance message if that is not the adult model."
After watching a short film Realising our Global Village, participants discussed cultural diversity in relation to education, employment, health and integration. Goals included to build opportunities and strategies.
Through the Forum booklet, organisers stressed: 'as industrial growth continues to attract overseas workers to Gladstone it is essential that organisations develop skills in cultural competency to support the ever increasing diversity of the community'.
CQUniversity was among the supporting sponsors for this initiative.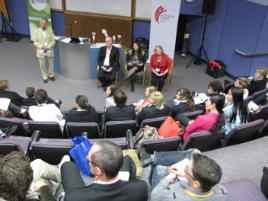 LINK for a larger image