CQUniversity Taipans Academy to showcase its skills
Published on 28 February, 2013
Four months of skills development, weight training and conditioning will be put to the test on Saturday when the 2012/13 CQUniversity Taipans Academy plays its first exhibition game.
The Academy, traditionally focused on individual development rather than squad training, will take on the under-18 North Queensland State team as it prepares for the national championships in April.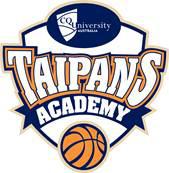 The game will tip off at 6pm this Saturday March 2 at Cairns Basketball, 289 Aumuller St. Entry is free.
Academy mentor and Skytrans Cairns Taipans assistant coach, Jamie Pearlman, said the match provided Academy athletes an additional opportunity to showcase their skills.
"The CQUniversity Taipans Academy is a development squad rather than a traditional team, but playing the occasional exhibition game is a great reward for their hard work in the weight room and skills sessions," Pearlman said.
"These kinds of games give our young athletes those extra opportunities to develop their skills and gain further experience," he said.
The CQUniversity Taipans Academy side is led by Taipans development players Shaun Bruce, Matt Andronicos, James Mitchell, Matt Adekponya and Justin Soleimani.
They'll provide stern competition for a younger under-18 North Queensland outfit, which includes current Academy members Beau Hollingsworth and Matt Jellatt.
The state team is in its final stages of preparations for the national championships being held in April.
Pearlman encouraged basketball fans to attend the game to preview Cairns' future basketball talents.
"For fans these games are all about the future of our local game. Hopefully we'll look back having uncovered the next Kerry Williams, Nathan Jawai or Aron Baynes," he said.
CQUniversity Taipans Academy Team #4 Matthew Adekponya (Cairns) #6 James Mitchell (Cairns) #7 Shaun Bruce (Ballarat) #20 Jaylan Bin Tahal (Cairns) #21 Aaron Bin Tahal (Cairns) #22 Billy Hopkins (Cairns) #24 Aron Farmer (Cairns) #25 Justin Soleimani (Kilsyth) #30 Denzel Kennedy (Cairns) #31 Daniel Majer (Cairns) #32 Matt Andronicos (North Sydney, AIS) #34 Jason Osborne (Cairns).
Beau Hollingsworth (Cairns) and Matt Jellatt (Cairns) will represent the North QLD State Team.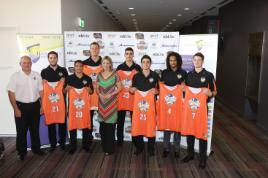 The CQUniversity Cairns Taipans Academy team at the official launch last year.