Positive births lead Kobi to midwifery
Published on 08 March, 2013
Mackay mother-of-three Kobi Haddow is hoping to help other women have the same positive birthing experiences that she had, when she completes her midwifery program through CQUniversity.
In between being a busy mum, Kobi completed her Nursing degree in 2010 and went on to do the Queensland Health Postgraduate Program in 2011 through the Mackay Base Hospital, where she spent six months on the medical ward and six months in the Mental Health Unit.
She said that, thanks to her supportive family, her desire to undertake the Midwifery program over the next 18 months was achievable and she was now looking forward to working with other midwives and women in the region.
"The CQUniversity midwifery program stood out for me because it was really flexible and I can choose when I do the practical components.
"The program allows us to work with women throughout the entire pregnancy and after birth."
Kobi said with things constantly evolving in the field, it is an exciting time to be involved with midwifery.
"There is a lot more information available to women these days and they are being given more choice in their birthing options, so I think being able to support and educate families through this process will be really rewarding."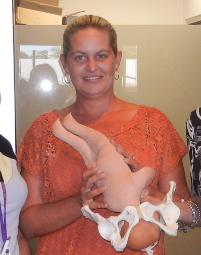 Midwifery student Kobi Haddow.