CQUniversity and Hail Creek Mine refresh partnership
Published on 29 November, 2012
CQUniversity and Rio Tinto Coal Australia's Hail Creek Mine will continue their partnership by signing a new Memorandum of Understanding (MoU) for a further three years.
The organisations have been working together since 2006, initially on an annual scholarship program that has since supported more than 40 local students (with a further 20 students expected to be part of this program over the next three years).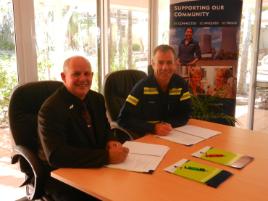 CQUniversity Vice-Chancellor Professor Scott Bowman and Rio Tinto's Hail Creek Mine General Manager Operations Rowan Munro sign the MoU. The alliance grew into a stronger strategic partnership with the first MoU signing in 2009, which saw an additional seven programs implemented to benefit CQUniversity students, educators, the local community and Hail Creek Mine.
The new MoU signing will announce the continuation of these programs to provide education and work opportunities that will help build the skills capacity of the Mackay region across multiple industries.
These programs include opportunities for work experience, potential industry placements, student and educator site tours at Hail Creek Mine and a variety of career development opportunities for mine site employees.
One of the most beneficial elements of the partnership is the Hail Creek Mine CQUniversity Scholarship Program, offered on an annual basis to students studying a variety of disciplines including Health, Environmental Science, Business, Information Technology, Engineering and Occupational Health and Safety. Details are via www.cqu.edu.au/scholarships
Vice-Chancellor Professor Scott Bowman said the ongoing partnership aimed to provide many benefits to Central Queensland.
"CQUniversity's partnership with Hail Creek Mine aims to drive local growth and prosperity as well as provide unique skills and career development opportunities in this region."
Pro Vice-Chancellor (Community & Engagement) and Head of Mackay Campus, Professor Pierre Viljoen said the renewed partnership will provide further opportunities for educational pathways in the Mackay, Isaac and Whitsunday regions.
"By partnering with Hail Creek Mine, CQUniversity is supporting the next generation of industry professionals to study, live and work locally."
"It's important to invest in our local region to ensure a strong and sustainable future for everyone living and working in this area."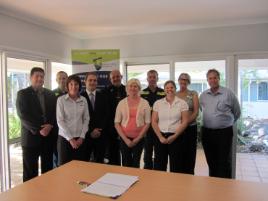 Professor Pierre Viljoen, Marie Cameron, Matt Terry, Euan Lindsay, Professor Scott Bowman, Fae Martin, Rowan Munro, Fiona Kruger, Lyn Forbes-Smith and Brendan Donnelly. Hail Creek Mine General Manager Operations Rowan Munro said the partnership has enabled the operation to gain an understanding of the capabilities, key issues and opportunities in the region while actively contributing to its growth and development.
"Our partnership is about supporting local people in their chosen fields and providing opportunities for them to pursue their career in Central Queensland," Mr Munro said.
"We first began our partnership with CQUniversity after conducting a community survey that showed that skills, education and training were areas that our key stakeholders and employees wanted to focus on.
"We acted upon this finding and were able to launch a scholarship program with CQUniversity that a few years later evolved into a stronger strategic alliance, offering a broad range of programs and benefits for the region.
"With the relaunch of our MoU for the next three years, we look forward to continuing to work with CQUniversity to contribute to a vibrant workforce for the region in the future."