Aussie delegate notes rapid investment in resort and gaming products in Asia
Published on 17 November, 2011
Investment in major new resort and gaming products in Asia continues to increase rapidly as emerging mega-markets such as China and India are seeking high quality tourism experiences.
According to senior lecturer in Tourism at CQUniversity Steve Noakes, this remarkable growth will see the generation of thousands of new job opportunities for tourism management graduates of Australian universities.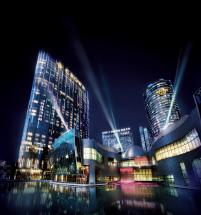 Photo courtesy City of Dreams Macau
"Speakers at the annual Asian Integrated Resorts Conference event just held in Singapore have clearly illustrated the underlying strength of the tourism sector, especially in East Asia where it seems business opportunities continue to attract entrepreneurs, investors and major hotel, resort and gaming brands," Mr Noakes said.
LINK to Obama follows Oprah, Clinton and Hoges in boosting Australia's tourism profile in America
Included in the Conference speakers panels were senior representatives from major Asian-based integrated resorts, casinos, theme parks and convention facilities, and just one academic (Steve) who was promoting concepts of sustainable tourism to this rapidly growing tourism region of the world.
Mackay-based Mr Noakes addressed and chaired the first day presentations at the Conference on behalf of the Washington DC-based Global Sustainable Tourism Council (GSTC), the leading not-for-profit agency advocating sustainable approaches to tourism development, which now includes CQUniversity as its only university member in the Pacific region.
[Steve serves on the Board of the GSTC and took the opportunity to promote the new tourism degrees to be offered at CQUniversity, commencing 2012.]
"The conference was a one-stop platform that encapsulated the cutting edge issues in in the design, development, finance, investment, commercialisation, hospitality and leisure elements necessary to the development of successful integrated resorts," Mr Noakes said.
Amongst the expert presenters were:
- Nicholas Naples, Co-Chief Operating Officer of Melco-Crown Entertainment, Hong Kong and President of City of Dreams, Macau
- Steve Noakes, Board Member of Global Sustainability Tourism Council (GSTC) and senior Lecturer in Tourism at CQUniversity Australia
- John Shigley, President & Chief Operating Officer of MGM Grand Ho Tram, Vietnam
- Dharmali Kusumadi, Senior Vice President Design Services of Banyan Tree Holdings, Singapore
- Aaron Soo, CEO of Sunway Lagoon, Malaysia
- Michael Sagild, Managing Director Asia Pacific Development of MGM Hospitality, Hong Kong
- Paul Town, Vice President of Hotel Operations of Galaxy Entertainment Group, Macau
- Niall Murray, Director of Operations Development Joint Ventures & Business Developments of Grand Lisboa Macau, Sociedade de Jogos de Macau (SJM)
- Michel Goget, General Manager of The Ritz-Carlton, Sanya & Chairman of the Sanya Tourism Association, China
- Chia Tek Yew, Executive Director Strategy & Marketing Bintan Resorts International, Singapore
- John Koldowski, Deputy CEO & Head, Office of Strategy Management of Pacific Asia Travel Association (PATA), Thailand