Torres Strait Islander Adeah always had designs on engineering career
Published on 28 October, 2011
Young Indigenous student Adeah Kabai says he's always had a strong interest in designing and building projects, leading to his enrolment as a Bachelor of Civil Engineering student at CQUniversity.
The 20-year-old says his favourite high school subjects included maths, science, physics, graphics and chemistry, which are all integral to his chosen career path.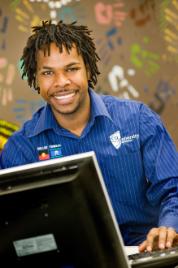 Adeah Kabai
"I chose civil engineering because I have very big aspirations of taking my skills and knowledge to develop my homeland in the Torres Strait.
"However I want to gain a career in the mines to gain a broad engineering experience and I have been very fortunate to gain an Indigenous engineeering cadetship with Rio Tinto which is a massive boost into my engineering career."
During high school, Adeah was chosen as one of the top 20 Indigenous science students and attended the Australian Indigenous Engineering Summer School held in Sydney.
"This summer school at the University of New South Wales gave me a strong insight into the study of engineering," he said.
Adeah says CQUniversity's Co-op Engineering program is one of the best in Australia because it enables students to work as professional engineers for 12 months of their four-and-a-half year program.
"We undertake two six-month paid placements with industry which allows us to gain on-site professional experience to enhance our skills and knowledge.
"I also chose CQUniversity because of the Indigenous support that played an integral role in recruiting me, and also the fact I attended St Brendan's College for my high schooling and all my mates do study engineering at CQUni as well."
Adeah says he has particularly enjoyed studying 'Engineer Project Management and Implementation' because this unit gave a general idea of the engineer's role within a project.
"We actually worked in some real-life projects. I was able to apply my gained engineering knowledge from this subject into my Co-op placement when I was working as a student engineer.
"I also found Analysis of Structures very interesting and relevant to mining, and even though I struggled at times with assessments, I was motivated to achieve a successful high passing grade."
Adeah was originally from Saibai Island in the Torres Strait before moving south to St Brendan's College, Yeppoon, for high school. He could have chosen to study in North Queensland to be closer to his family, but CQUniversity had a strong reputation for Engineering and support for Indigenous students was available through the Nulloo Yumbah Indigenous Learning, Spirituality & Research Centre on campus.
"My friends from school have chosen to study engineering here at CQUni. They help take my mind off homesickness and I'm really enjoying my time here."