Floating ideas to combat marine debris
Published on 07 March, 2013
CQUniversity researchers Dr Scott Wilson and Professor Marnie Campell recently contributed to a presentation on the potential of community engagement activities to reduce and manage marine debris.
Conservation Volunteers Australia Corporate Affairs Director Phil Harrison also helped lead this event, presented with support from CVA, CQUniversity and and Queensland Gas Company.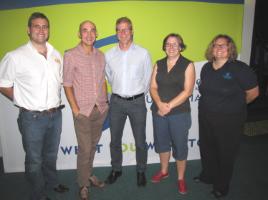 L-R Patrick Hastings (QGC), Dr Scott Wilson (CQUni), Phil Harrison (CVA), Prof Marnie Campbell (CQUni) and Caitlin Davies (CVA) are pictured during the evening event
The event held in the Leo Zussino Building on CQUniversity Gladstone Campus was designed to interest representatives of community organisations and natural resource management groups.
Dr Wilson presented findings from the 2012 Marine Debris beach and drift card surveys, Prof Campbell presented findings from the social survey on attitudes about littering in Gladstone Habour, and Mr Harrison spoke on building community capacity through community engagement.
A video shown about Mr Wilson's Marine Debris project was produced by a team of CQUniversity MultiMedia students, collaborating virtually in distance mode. They were Benjamin Fisher, John Manderson and Brodie Stephenson from Bundaberg and Kyl Newton from Brisbane. You can see their project below.