Visiting Chinese scholar keen on CQUni's strong international education focus
Published on 19 January, 2012
CQUniversity Australia has a strong tradition of links with Chinese institutions and academics, most recently hosting Visiting Scholar Professor Qin Chenqiang, Dean of the Sino-Canadian International College (SCIC) at Guangxi University in Nanning...
Qin has been visiting CQUniversity Sydney with side tours to other campuses as a guest of CQUniversity's International Education Research Centre. He is collaborating on several research projects with IERC Director Associate Professor Alison Owens.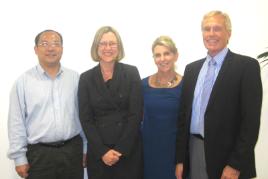 Visiting Scholar Prof Qin with Assoc Prof Alison Owens, Sydney Campus Director Susan Loomes and Dr Clive Graham (Head of Programs for the Doctor of Professional Studies)
In addition to a focus on English language and intercultural learning, SCIC is seeking to embed entrepreneurial skills across programs so that graduates are creative, innovative and effective professionals in the context of an increasingly competitive Chinese domestic labour market.
Professor Qin's academic expertise and research interests include linguistics, language teaching (particularly English) intercultural communications, international education and pedagogies for entrepreneurial learning. He is the chief investigator for a grant from China's Ministry of Education entitled: Reform Pilot Project to Cultivate Innovative Interdisciplinary Entrepreneurial Talents in China - ASEAN Free Trade Area.
Qin selected CQUniversity as a result of his research online seeking to find an Australian university with a strong international education focus. He also noted the transdisciplinary and entrepreneurial focus of programs such as the Doctor of Professional Studies. Qin hopes to establish ongoing links for collaborative research into intercultural communication, international education and entrepreneurial pedagogies as a result of his visit. He is very keen to begin student and staff exchange between CQUni and Guangxi University.
Guangxi University was established in 1928 and currently offers 70 undergraduate, 80 postgraduate and six doctoral programs to just under 25,000 enrolled students.
Prof Qin's college was established in 2001 through the joint efforts of Guangxi University and the Canadian Foundation Centre for International Education (CFCIE). A key objective of SCIC is to "...generate a native-like language learning environment where students not only learn English, but also immerse themselves in cross-cultural communication".
Qin explained why he selected Australia as a visiting scholar: "I completed my postgraduate studies in Canada and was interested in experiencing a further, culturally different context for education so that SCIC can benefit from my international knowledge, experience and relationships. My staff are from Canada, USA, Australia, UK and New Zealand as well as local Chinese staff, so expanding my intercultural knowledge and skills can assist me support teaching staff at SCIC." In addition, Qin had seen the 'many beautiful sceneries' of Australia and wanted to visit them for himself. He will also be travelling to New Zealand at the end of his CQUni residency.
Qin will visit several CQUniversity campuses over his residency and welcomes contact from staff interested in meeting with him to discuss collaborations. His contact details and further information about Guangxi University and SCIC are available below.
Contact Prof Qin at q.chengqiang@syd.cqu.edu.au
Guangxi University website: http://www.gxu.edu.cn/administration/gjc/index-e.htm
Sino-Canadian International College website: http://www.sinocan.cn/Html/list_71.html