Rust never sleeps but Uni awake to visitor's message
Published on 04 September, 2012
Nestled in a major industrial and port city, CQUniversity Gladstone has hosted a distinguished visitor who is one of Australia's foremost experts on corrosion and corrosion-assisted cracking. He is interested in collaborating with the CQUni academics who consult to our local industrial giants.
Professor Raman Singh, from Monash University, recently delivered a seminar for the School of Engineering and Built Environment. CQUniversity staff and students in other campus locations took part via ISL videoconference technology.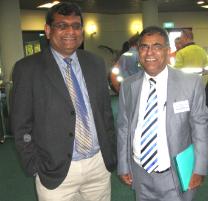 Prof Raman Singh (left) with CQUni Maintenance Management lecturer Subhash Sharma
The seminar on corrosion and its mitigation covered the role of the nano/microstructures of alloys in corrosion, application of advanced materials (such as graphene coating) for extraordinary corrosion resistance, micro-biologically influenced corrosion, corrosion problems of advanced bio-implant materials and stress corrosion cracking.
Professor Raman Singh has a joint appointment as a professor at the Department of Chemical Engineering and Department of Mechanical & Aerospace Engineering, Faculty of Engineering, at Monash University. He is also a Research Professor at the Centre for Clean Energy Engineering at the University of Connecticut (USA).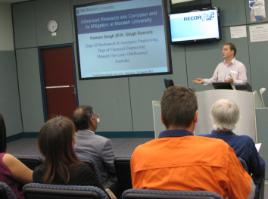 Engineering Dean Euan Lindsay welcomes seminar participants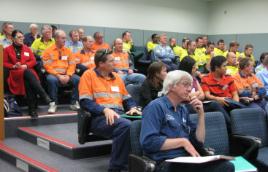 Participants in the seminar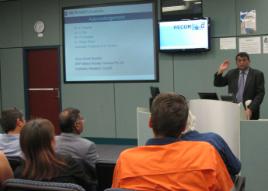 Prof Raman interacts with his audience