Bundaberg Campus hosts R&R Fiesta
Published on 14 June, 2013
CQUniversity Bundaberg recently hosted an R&R Fiesta in partnership with Bundaberg Regional Council...
The Council has been conducting R&R Fiesta events to help in community recovery efforts and in lifting the spirits of individuals, neighbourhoods and organisations affected by the floods.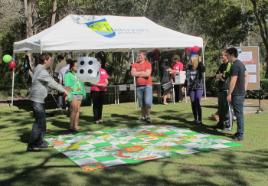 LINK for a larger image
CQUniversity was selected for involvement as a range of staff and students were impacted by the floods.
In addition, the University provided a lot of support to the local community during the disaster including provision of facilities for the Bundaberg NewsMail newsroom and laboratories for council water testing. Education students also entertained children from evacuation centres.
Between 150-200 staff and students attended the event, enjoying a barbecue, games and competitions for prizes.
Attracting this event to campus was an initiative of the newly formed Campus Life Committee which worked with the Council to promote and set up the event.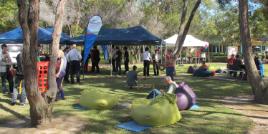 LINK for a larger image