Regional needs addressed, community connects with Uni
Published on 31 October, 2012
CQUniversity opened a rich vein of opportunities that the Mackay community could consider at the third annual Community Connection Forum held this week.
Around 70 participants from industry, business, not-for-profit organisations and the community gathered to hear how they can collaborate with CQUniversity to improve outcomes for the Mackay-Isaac-Whitsunday region.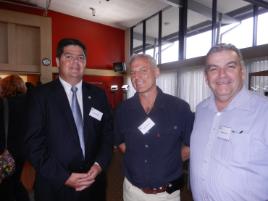 Professor Pierre Viljoen (CQUniversity), Ralph Johnson (Queensland Health and Bendigo Community Bank) and Wayne Hartley (Queensland Mines Rescue Service).
Hosted by CQUniversity and supported by the Regional Engagement Committee (REC), the forum discussed a range of topics including new training schemes for mine safety, providing more conference facilities and accommodation, a youth engagement program to give young people a say on regional priorities in this region, a community strengthening index, and encouraging more student engagement through groups like Rotaract.
The forum also discussed health-related opportunities including the need for more training to keep health workers safe in dangerous patient situations, using music as a means for health healing and therapy, and how to encourage sporting groups to get more involved with the younger generation through social media.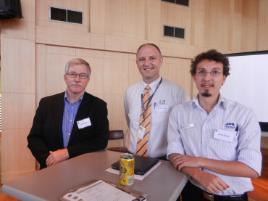 Allan Ruming (Group Engineering), Gerard Carlyon and Andrea Satireyo (Mackay Regional Council).Chair of the REC Allan Ruming said the committee (comprised of key representatives from CQUniversity, business, industry and the community) presented a number of successful outcomes from priorities that were outlined at last year's forum and they would again revisit new opportunities they could pursue in 2013.
CQUniversity Mackay's Head of Campus and Pro Vice-Chancellor (Community & Engagement) Professor Pierre Viljoen also provided an update on campus developments and expansions, the Mackay Regional Sporting Precinct and dual sector opportunities.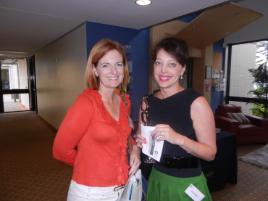 Erin Mulherin (Office for Women) and Nikki Wright (Dept Employment, Education, Economic Development). "We are proud of how fast the Mackay campus has grown and the fact that we have expanded our offerings to provide relevant, local education for students in this region."
"We hope our Connection Forums continue to get bigger and better each year as we bring together our local community and discuss how we can continue to improve the relevance of our education, research and service provision to the Mackay-Isaac-Whitsunday regions."
..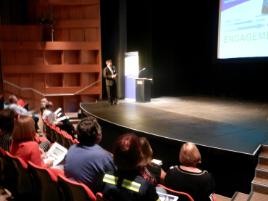 Around 70 industry, business and community members attended.