Indian Women's peak body recognises Deepa's achievements
Published on 04 April, 2012
Congratulations to CQUniversity Regional Recruitment Manager (South Asia) Deepa Mathews, who is based at Melbourne Campus, having migrated to Australia in 1991.
Deepa recently accepted an 'Outstanding Woman - Achievements in her Field' award from the Federation of Indian Women's Associations in Australia.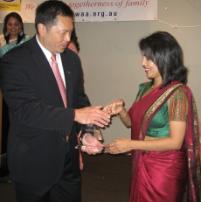 Deepa Mathews is awarded
The FIWAA Award recognises Deepa's career, community contribution and work-life balance.
After arriving in Australia a little over 20 years ago, Deepa was determined to find work, despite recession conditions in the job market.
Unable to find work in Melbourne, she moved to Mildura to work in a at a TAFE College. She faced a number of barriers as a woman of Indian origin in a country town in 1991. Undeterred, she continued to soldier on and, among other achievements, was regularly featured on SBS Radio in Mildura.
Moving back to Melbourne, Deepa chose to work in the western suburbs at Victoria University. In response to the Government's Managing Diversity Policy, Deepa developed the Managing Diversity Plan at VU. Her plan was nominated by the State Government as having the best agreed outcomes. As a result, Deepa was invited to be part of a reference group that reviewed the Managing Diversity Policy, along with senior staff from other institutes such as TAFE Directors. Upon invitation from the State government, she also facilitated a session at the Diversity Works Conference.
In her current role at CQUniversity, Deepa travels extensively throughout South Asia, engaging with universities, government departments, students, alumni and prospective students.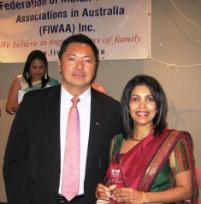 Deepa with her award
She is an accomplished speaker and was the first president of Indian origin for the Rostrum public speaking club.
Upon invitation from the Association of Commonwealth Universities, Deepa took on a role as one of the facilitators at a Workshop on Women and Management in Kuala Lumpur. Participants in the workshop were senior women from universities across the Commonwealth countries.
In 1999, after having been in Australia for only eight years, Deepa was nominated onto the Board of the Equity Research Centre, a responsibility she fulfilled for five years.
She currently holds many governance positions such as membership of the Community Advisory Committee of the Royal Women's Hospital Board, Board of the Soul Food Women's Group and Board of Mission for Kids, and advisor to the Family Health Institution, India.
She is also a member of the Education Committee of the Australia India Business Council. She has been the Assistant Secretary of the Mar Thoma Church, Treasurer of the women's group of the Mar Thoma Church and a member of the Darebin Ethnic Communities Council.
Deepa is currently being sought after as a Board member by a consortium of hospitals and a professional college, both in Sri Lanka.
A member of the Australian Institute of Company Directors, Deepa has been featured in the media on a number of occasions, both in Australia and South Asia.
Along with her board career and professional role, Deepa has been actively involved in the community. Issues such as domestic violence, equity in opportunity and women's health are at the forefront of her quest for social justice.
This community contribution also extends to providing voluntary training and management consultancy to not-for-profit organisations across the world. Deepa provides free training to not-for-profit organisations on strategy and policy development, marketing and business and personal ethics.
Recognising her many achievements and her capacity to contribute to the community, the Federation of Indian Associations Victoria (FIAV) nominated and selected Deepa as a member of FIAV's Domestic Violence Panel, after considering numerous applicants.
Deepa was part of an eminent panel along with Members of Parliament for the White Ribbon Day event in November 2011. She spoke on the Christian view of domestic violence and also summed up the panel discussions.
Deepa worked part-time for many years to raise and spend time with her two sons. Given one of her sons suffered from asthma, she refused all professional travel commitments until he had outgrown his sickness and was capable of looking after himself. Whenever her husband was unavailable and a parent's care was required, her children accompanied her to work (including management meetings). Deepa managed the situation with professionalism and efficiency.
A scholarship student throughout her education, with a Master's from the prestigious Tata Institute, Deepa has always wanted to pursue her PHD. However, she put her own studies on hold until both her sons completed VCE.
As a result of her personal and professional balance, she has succeeded in raising two young men who have a social conscience and are actively involved in the church and community along with their education.