Mackay people welcome at free talk on 'aging as an athlete'
Published on 07 August, 2012
Mackay people are welcome to attend a free presentation entitled 'Aging as an athlete: what do science and experience tell us?', from 6pm to 7pm on Wednesday August 22, at the Pavilion Room of the Shamrock Hotel.
This informal 'Research Unplugged' event is being presented by the Institute for Health and Social Science Research (IHSSR) at CQUniversity.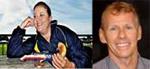 Presenters Tracey Belbin and Peter Reaburn
It features sports scientist and author of The Masters Athlete Associate Professor Peter Reaburn, and Olympic gold medallist and hockey coach Tracey Belbin, who is Coordinator for the Australian Sports Commission's Active After Schools Program in Mackay.
Together, Tracey and Peter will share stories and science facts that aim to inspire and enhance the lives and performances of athletes of all ages.
Finger foods will be provided and participants are requested to RSVP by August 15 to l.pattie@cqu.edu.au or on 4940 7834.
# # #
Peter Reaburn is an active researcher widely published in the area of masters sport and a high-performance masters athlete. He has published the definitive book The Masters Athlete. He writes 'bridging the gap' articles for Cycling Australia and AUSSI Masters Swimming, and regularly conducts workshops for Triathlon Australia and Triathlon Queensland. He is currently leading a research team at CQUniversity focused on masters athletes. Peter practices what he preaches. He is former national surf lifesaving champion, has won four state long-course triathlon championships in his late 40s and was the Australian (50-54 years) Ironman triathlon champion in 2005. He completed the Hawaii Ironman in 2005 and is currently training to go back to Kona in 2015. Peter is a father of two and also an A-grade netball coach.
Tracey Belbin is the current coordinator of the Active After Schools Program for the Australian Sports Commission in Mackay. Tracey has coached hockey internationally in South Africa and the United States and been employed as a hockey coach within the ACT, Queensland and NSW sports institutes and academies. Tracey is a dual Olympian and is the winner of an Olympic gold medal in 1988 in the all-conquering women's hockey team of that year. Tracey is a mother of two and passionate believer in the role of sport in the lives of people of all ages. She brings a wealth of experience and knowledge to share with attendees.