CQUni establishes careers info centres in Emerald
Published on 21 October, 2011
Around 20 guests from local mining companies, training institutions and the Central Highlands Regional Council recently attended the launch of the Central Highlands Careers Information Centre (CHCIC), hosted at the Central Highlands Regional Council Library in Emerald.
CQUniversity has previously established Career Centres at both the Gladstone and Mackay campuses to create a 'One-Stop' broad based career information centre, for individuals and organisations wanting to know more about what is available in training, education and employment pathways.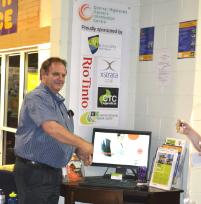 Central Highlands Regional Council Mayor Cr Peter Maguire officially opening the CHCIC
Now the University has gone one step further and established a centre at the CHRC Regional Library and another at CQUniversity Emerald Learning Centre.
This project has benefited from partnerships between the CHRC, CQUniversity, Rio Tinto - Kestrel Mine, Xstrata Coal and Capricornia Training Company.
CQUniversity Director of the Pathways Project Dr Col Greensil said the Careers Centres are working well to provide information to those wanting to develop their skills base and enhance their qualifications.
"It is very pleasing to see such strong engagement and support from the Central Highlands Regional Council. We would like to thank the Mayor Peter Maguire and his Council for hosting a CQUni Careers Information Centre in the Emerald Town Library and Rio Tinto (Kestrel), CTC Apprentices and Xstrata Coal for their financial sponsorship of the Centre.
"We feel certain it will be of significant benefit to those who use it and the community in general."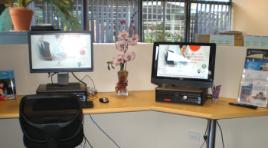 Part of the new CHCIC facilities