Live music thrives thanks to CQUni and TAFE initiative
Published on 03 May, 2012
Live music is thriving on the Sunshine Coast with the help of the Retrovert Concert Series supported by CQUniversity's Bachelor of Music program* in association with Sunshine Coast Institute of TAFE.
A recent Retrovert concert at the popular solbar in Maroochydore featured students performing as The Electric Zippers, The Uni-Versals and Wet Velvet. The variety and versatility of the musicians in each band make this Retrovert Concert Series a very special one. It's being promoted as 'Tomorrow's Stars Today'.
The Retrovert Concert Series has a facebook account www.facebook.com/retrovertconcertseries and a twitter account www.twitter.com/retroverters, where it's building a steady stream of followers.
A unique partnership between Sunshine Coast TAFE and CQUniversity enables TAFE music graduates to earn direct entry into the second year of the Bachelor of Music Program.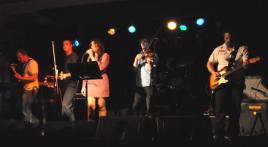 The Electric Zippers rock the solbar in Maroochydore as part of the Retrovert Concert Series. Steph from The Uni-Versals and rapper George joined the stage too. LINK for a larger image
Students completing SCIT's diploma-level music program gain credit for articulation into the second year of CQUniversity's Bachelor of Music (Creative Music Technologies) or Bachelor of Music (Contemporary). One stream is aimed at people interested in commercial and artistic sound production while the other targets those keen to expand their performance skills.
With practical experience based at a recording studio and support for live gigs, Sunshine Coast TAFE Music Department teacher Charlie Macneil said the partnership between TAFE and CQUniversity provides the best of both worlds for the music students.
"This innovative music degree demonstrates the successful engagement of both students and industry throughout the program," Mr Macneil says.
CQUniversity Head of Music Dr Derrin Kerr says the collaboration with SCIT is an excellent opportunity for students to align their studio music and live performances with the learning outcomes of a university-level program.
Dean of Creative and Performing Arts Professor Matthew Marshall says the Retrovert Concert Series is a welcome addition to CQUniversity's Creative and Performing Arts Events Calendar.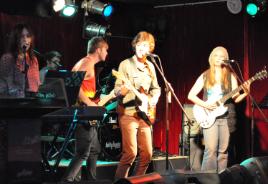 LINK for a larger image of The Uni-Versals on stage
"This sort of activity makes a significant contribution to CQUniversity's aim to be Australia's most engaged university," Professor Marshall says.
* CQUniversity's Bachelor of Music program is based at the Central Queensland Conservatorium of Music, within the School of Creative and Performing Arts.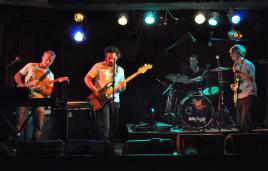 LINK for a larger image of The Electric Zippers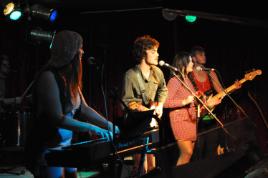 LINK for a larger image of The Uni-Versals