Bundy based 'Emerging leader' comes from long line of nurses
Published on 01 December, 2011
CQUniversity Bundaberg student Patricia Fox has been chosen as one of five nursing students for this year's Emerging Nurse Leader Program.
Rockhampton Campus student Sherrie Lee was also one of the five selected for the national program*. This means that CQUniversity students earned two of the five national program spots, selected from 33 applications across Australia.
Also LINK to Nursing student Sherrie hears of 'emerging leader' award from remote region of Nepal
An initiative of the College of Nursing, the program aims to identify those nursing students with a passion for the profession and who have the ideas and capacity to inspire their peers.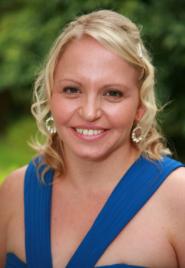 Emerging nurse leader Patricia Fox is based at Bundaberg CampusPatricia lives in Bundaberg with husband Paul, who is the IT manager at Bundaberg Brew Drinks.
"I come from a long line of nurses with both my nanna and mum having long standing nursing careers, and I have enjoyed every step of my study to date," she says.
Patricia says her early career was in sales, including advertising sales for WIN TV, but she was keen to seek out fresh horizons.
"I would like to remain in clinical nursing for some time. I aspire to a role as a nurse unit manager in the shorter term and I am very interested in cardiac care.

"Long term I would like to be a position where I can influence positive change; this may be in a training role in a clinical setting or in a management role away from the hospital."
Patricia started her nursing degree after completing CQUniversity's preparatory program known as WIST (Women Into Science and Technology).
She has already demonstrated the ability for community leadership through volunteer roles as a board director, membership committee chair and PR committee member, when she was a member of Zonta International.
Patricia has also arranged to be a student mentor at Bundaberg Campus in 2012.
* Successful candidates for this program will receive a package that includes membership of the College of Nursing, access to a mentor, development opportunities and exposure to some of the best minds in the profession and across the wider business community. Details are via http://emergingnurseleader.com/
Tracey Osmond, Chief Executive of the College of Nursing, commented on the high calibre of applicants in this inaugural year. "The future of nursing is in great hands if these applicants are an indication of the quality of talent currently in the profession," Tracey said.
The Emerging Nurse Leader is a mentorship program, which has been established to further the development of select nursing students, who have shown leadership skills and a contribution to the community. Each year, an additional five students will be inducted into the program, so by 2016 there will be a full complement of 25 Emerging Nurse Leaders.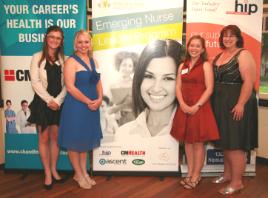 Patricia (second from left) at her Emerging Nurse Leader presentation
Each individual leader's strengths, interests and development needs will be taken in to account throughout the program. Mentors from the nursing profession, as well as government and business sectors, will be called upon to assist course participants in their development towards becoming the future leaders of the nursing profession. In their final year, each participant will be involved in a major change project, designed to address a key area of need in Australian nursing or health.