Interest builds for project management network
Published on 19 April, 2012
Around 40 project management professionals from a number of different industries met at CQUniversity recently to show their interest in forming a Mackay chapter of the Project Management Institute of Queensland (PMIQ).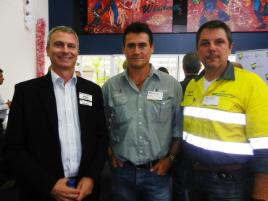 PMIQ President Dave Wright with Ross Beattie and Peter Bowd. The first meeting aimed to gauge the level of interest from the project management community and to enable those in the industry to contribute to the vision and evolution of a Mackay group.
CQUniversity's head of program for Project Management Richard Egelstaff said there was a good show of interest from project managers from a mix of different industries in Mackay.
"There was a mix of infrastructure and resources firms such as Mastermyne and G&S Engineering and additionally construction companies such as Paynter Dixon," Mr Egelstaff said.
"Project management has been identified as an essential need to meet the goals of the region."
As part of PMIQ, members can meet with other project managers across a broad range of industries to share experiences and support, attend PMIQ networking events, undertake internationally recognised courses and receive monthly newsletters and publications.
CQUniversity has recently launched its new postgraduate course in Project and Program Management with outstanding success.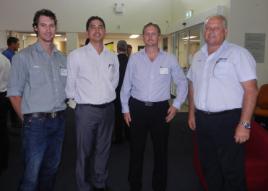 Aidan Cameron, Aris Margaritis, Philip Geach and Peter Montgomery at CQUniversity Mackay. These courses are delivered via a blend of face-to-face learning and distance education, providing practicing project managers and directors with the 'hard' skills to run projects in the most challenging environments.
"As more and more people recognise the value of professional project management and seek to make this their career direction, then CQUniversity is meeting the demand for a high quality and focused project management education in Central Queensland," Mr Egelstaff said.
The Project Management Institute is a worldwide professional association with chapters in Australia. It aims to advance the practice, science and profession of project management.
Further details are available via Lyn Forbes-Smith via 4940 7867 or l.forbes-smith@cqu.edu.au.
For more information or to register for PMIQ, visit http://www.qld.pmi.org.au/.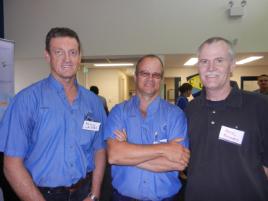 Kevin Walter, Glenn Barker and Paul Bowen show interest in a Mackay chapter of PMIQ.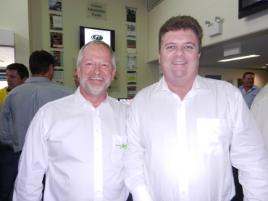 CQUniversity's Project Management course coordinator Richard Egelstaff with Tony Stevens from Paynter Dixon.