CQUni helps stage Skilled Migration briefings
Published on 02 August, 2012
CQUniversity has helped to stage two Skilled Migration briefings, delivered in Gladstone by the Department of Immigration and Citizenship (DIAC).
Representatives of DIAC visited Gladstone Campus to explain recent changes to Skilled Migration programs which came into effect on July 1.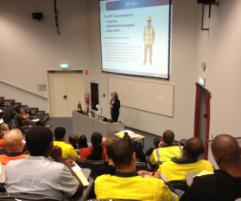 They presented to Gladstone's newly-formed Australian Human Resources Institute Network (convened by CQUniversity's Dr Roslyn Cameron) in the afternoon, and to the community at large in the evening.
About 50 skilled migrant workers and their spouses and employers attended.
In related news, CQUniversity Gladstone has been hosting and supporting a range of multicultural activities, ensuring migrant workers feel welcome, thus helping local industry to source crucial workers for dozens of major projects which are underway or planned.
This week, on Friday, the campus is hosting a Cultural Diversity Forum arranged by the Welcoming Intercultural Neighbours (WIN) network and facilitated by SBS Insight host Jenny Brockie. Details are available via 07 4978 1389.