Adventure challenge pays tribute to popular Mackay student
Published on 19 April, 2013
CQUniversity Mackay is supporting the Zach Mach Mackay Adventure Challenge 2013, to be held on Saturday, May 11.
Organised by staff at the Mackay Christian College, the event will pay tribute to Zach Roberts, a popular young student, who sadly passed away at the age of 18.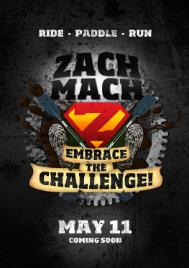 The challenge is a point-to-point race consisting of almost 100km in total - 20km of mountain biking, 10km of paddling, 60km of road cycling and a 10km run - from Teemburra Dam to the Bluewater Lagoon.
CQUniversity campus will be the 'transition' zone between the cycling and the running challenge.
Registration closes on Saturday, May 4. For more information, or to register, visit http://zachmach2013.wordpress.com/.
Contact: Jacqueline Greentree, Alun Tunnah or Peter Lister on 4963 1100 or zachmach@mccmky.qld.edu.au