French visitor Mathilde sure that poultry results won't be paltry
Published on 27 June, 2013
Better compost and litter management in the poultry industry can reduce pollution while creating good quality manure for crop production...
This quest has attracted French engineering college student Mathilde Tempez to take up a four-month internship at CQUniversity Rockhampton.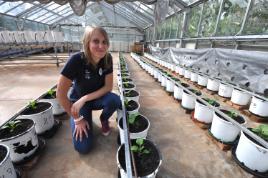 Mathilde Tempez
Her research project is on the use of granulated amended poultry manure for vegetable production, under the supervision of Dr Surya Bhattarai and Professor David Midmore, and working alongside PhD scholar Tanka Prasai.
Dr Bhattarai says he supervises around one 'occupational trainee' (intern) each year at CQUniversity's Centre for Plant and Water Sciences (CPWS), and has so far hosted visitors from France, Germany, the United Kingdom and Brazil. CPWS Director Professor David Midmore had a key role in accepting Mathilde's application and organising her visit.
"We have started an experiment to compare the growth of the plant Pak Choi, Chinese Cabbage in response to the type and the rate of granulated amended poultry manure," Mathilde says.
"The poultry industry is expanding rapidly, and with about 700 million birds in Australia each year, waste management in the poultry industry becomes very crucial.
"Nitrogen and phosphorus transformation in poultry litter is very rapid and also subject to loss of these nutrients causing pollution. Appropriate compost and litter management in poultry can provide a sustainable solution to this problem.
"The different types of granulated amended poultry manure are a result of the addition of different feed additives in chicken feed: 1, 2 or 4% of Bentonite, Biochar or Zeolite which produce poultry manures with different compositions. Before use, poultry manure is processed to obtain granules of fertilizer.
"So, at present, I work with 124 samples to compare and study the effectiveness of the granulated amended poultry manure and the combination between granulated amended poultry manure and inorganic fertilizer. I have to collect data to quantify the growth of each plant and the environmental growth conditions (amount of water used, supply of nutrients by the fertilizer).
"The final goal is the publication of a scientific article to explain and show the results and the conclusion of this experiment."
Mathilde says that coming to Australia was 'like a dream' and that she was enjoying discovering the 'real Australian daily life'.