CQUni's Qing-Long Han has '100 Talents Program' status in China
Published on 05 January, 2012
CQUniversity Professor Qing-Long Han has been liaising with Chinese academics with the status of a '100 Talents Program' Chair Professor.
In the latter half of 2011, the Talents Coordination Committee of Shanxi Province confirmed that Professor Han had been selected and appointed due to his outstanding contributions to control theory and control engineering.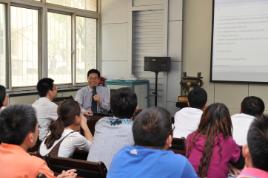 Professor Qing Long Han presents a seminar at Shanxi University
The '100 Talents Program' in Shanxi Province is organised by the Talents Coordination Committee of Shanxi Province on the Recruitment of Talents. The program will last for five to 10 years and has been carried out since 2009. It aims to recruit 100 overseas top scientists and talents.
The program requires that within the past five years, the talents should have published important academic articles in core journals in the international academic circles, or have been awarded with distinguished technology awards, or be in good mastery of important experiment skills and key technology.
The talents should either have worked as professors or in equivalent positions in famous international universities or research institutes, or have served in managerial positions as professional and technical personnel in internationally famous companies. They should be in possession of independent intellectual property rights or key technologies, and have independent overseas business experience. They should be familiar with the international industrial rules in relevant circles. Preferably they should be creative talents or business personnel that are most urgently needed in Shanxi Province, China.
Based at Rockhampton Campus, Professor Han is Director of CQUniversity's Centre for Intelligent and Networked Systems (CINS).