Recognition for Education students who help inspire Indigenous teens
Published on 21 February, 2013
Two of our Gladstone-based Education students have been recognised for their volunteer service to the 'ARTIE' (Achieving Results Through Indigenous Education) program.
Named in honour of proud Indigenous State of Origin legend Arthur Beetson, the Former Origin Greats ARTIE program is an Australian Government supported program funded under the Sporting Chance initiative.
ARTIE gives Indigenous students attending selected Queensland secondary schools access to a program that encourages and rewards improvements in school attendance, behaviour, academic achievement and effort.
The program also promotes the importance of Aboriginal and Torres Strait Islander cultural identity and awareness amongst its participants, adopting the motto 'Inspire, Encourage, Succeed' to form the basis of strategies aimed to improve the schooling endeavours of participating students.
Brisbane-based ARTIE representative Matt Martin recently travelled north to Gladstone to introduce first-year CQUniversity students to the program. I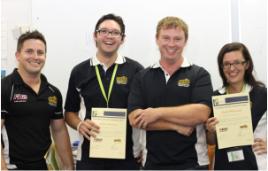 ARTIE rep Matt Martin, Education student Josh Kearney, Bill Moloney (Toolooa State High ARTIE program) and Education student Paula McDonaldn his capacity as Former Origin Greats Education Programs Manager, he also presented certificates of appreciation for students Josh Kearney, Paula McDonald, Danielle Smith, Khia Whelan, Tayla Campbell, and Maddeson Greig.
Ms McDonald said that any CQUniversity Education student looking to extend their personal and professional résumé, while developing a worthwhile community project, should seriously consider becoming a part of the ARTIE Academy.
"The extrinsic rewards provided to mentors within the ARTIE program (T-shirts, lunches and meet and greets with current and former NRL stars) are secondary to the valuable work experience, networking opportunities and relationships I have developed through my involvement as a tutor at Toolooa State High," she said.
The ARTIE program has been well received by CQUniversity students, high schools and Indigenous students. It is a wonderful opportunity for establishing networks and partnerships in the community.
Professor Helen Huntly, Dean of the School of Education & The Arts says she is pleased to partner with the ARTIE team in offering this terrific opportunity to pre-service teachers.
"This authentic learning experience adds value to our teaching programs, and we are grateful to the ARTIE team for enabling us to develop such a strong and positive partnership that has great outcomes for all involved," Prof Huntly says.
Details are via: http://www.artie.net.au/