CQUni rewards Noosa's Year 12 whiz kids
Published on 21 November, 2012
CQUniversity has demonstrated its commitment to education in the Noosa region by honouring four local whiz-kids for achieving the closest thing to academic perfection.
The St Teresa's Catholic College Year 12 students were each presented with Academic Excellence Awards at their graduation ceremony last week, for achieving almost all A grades in every semester throughout high school.
Patrick Daly, Jack Hayes, Lochie McCabe and Maddison Ashman each had their names etched on a school trophy and received a $100 prize from CQUniversity to put towards future educational endeavours.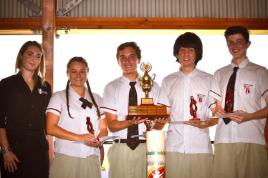 CQUni's Samara Lovekin with high-performing St Teresa's Catholic College Year 12 students L-R Maddison Ashman, Lochie McCabe, Patrick Daly and Jack Hayes.
CQUniversity Senior Marketing Officer Samara Lovekin said the University was proud to reward the students for their hard work.
"To achieve such a high level of academic excellence requires talent, commitment and sacrifice and we're proud to recognise these students' achievements," Ms Lovekin said.
"The level of excellence they reached is amazing really when you consider each of the students achieved A grades for nearly all their subjects through their five years at St Teresa's, with perhaps one or two Bs.
"They are the best of the best in what was a high performing year for their class and are on track to becoming future outstanding leaders and members of the community - we wish them the very best for the future."
Ms Lovekin said CQUniversity's support was part of its commitment to engage closely with schools in the region.
"CQUniversity values its relationships with local schools and it is a priority to foster and maintain close connections with local communities," Ms Lovekin said.
"Our local schools host our education students during their practical placement component, so it's important to us to be able to return the support
"We have been fortunate enough to be involved in a number of school events this year on the Sunshine Coast and look forward to continue to do so."
St Teresa's Principal Brother Paul Creevey said CQUniversity's support reflected its proactive role in the community.
"This is the first time we've been approached by an educational institution to sponsor an award, so we were very impressed," Brother Paul said.
"We're excited to develop a link with the University and the academic excellence award is a perfect fit.
"One of the great things CQUniversity Noosa offers for our kids is an option to remain here on the Sunshine Coast to study, so they don't have to travel away from their families to further their education."