CQUni to the fore as ETAN Careers Expo comes to Emerald
Published on 11 August, 2011
CQUniversity Emerald was a key player in the recent ETAN Careers Expo, which attracted 600 students to the Central Highlands district event.
Expo Coordinator Gai Sypher, our Operations & Project Manager from Emerald Campus, says "this experience allowed students to research future careers they may be interested in".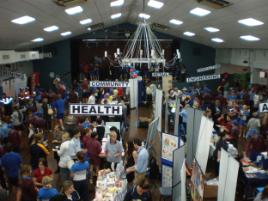 The careers crowd - LINK for a larger image
"It was great to see students obtaining information about university and looking at their future subject choices. There were a total of 34 exhibitors set up in the Emerald Town Hall ranging from the Defence Force, universities, retail, community providers, agriculture, mining and apprenticeships."
Ms Sypher said there was a record number of student participants this year "thanks to the generosity of funding from Minerva Mine, Curragh Mine, Rio Tinto, BMA, Central Highlands Regional Council, CQUniversity and James Cook University".
"This ensured subsidized buses for schools, increased advertising and the production of an information booklet distributed through CQNews.
"An addition to the Expo this year was the introduction of an evening session titled, 'Student Career Gallery'.
"This showcased a display of student impressions of a chosen career. CQUniversity sponsored $500 and this prize was donated to the school of the winning entry. Local schools were very supportive and competition was strong. However there can only be one winner, and the winning school was Marist College with the poster 'Out Back Spectacular' created by Maddison Moore and Hattie Morawitz."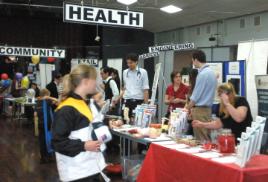 Expo participants - LINK for a larger image