CQUni digs in to meet needs of coal companies
Published on 04 August, 2011
CQUniversity is ready to meet the needs of coal companies in the nearby Bowen Basin and across other regions of Queensland...
In consultation with Xstrata Coal Newlands Mine, the University is designing a customised graduate certificate in management leading to a graduate diploma in mining management which can articulate into an MBA or a Masters in Management (Engineering).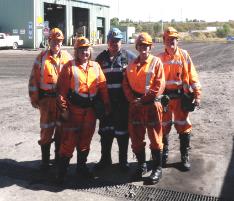 Completing a site visit at Xstrata Newlands Coal Mine are L-R Mining Engineering Lecturer Brendan Donnelly, tutor Robyn Collins, underground Mine Deputy Ian Houlison, Lyn Forbes-Smith Pathways and Senior Lecturer in GeoScience Andrew Hammond
Lyn Forbes-Smith from our Pathways program based in Mackay said CQUniversity and Xstrata Coal have a developing relationship in response to Xstrata's need to upgrade the skill of its workers and prepare them for management roles.
CQUniversity is also proposing a new suite of postgraduate degrees in project management, focused on mining, resources and infrastructure.
LINK to Uni's rapid response to protect Australia's prosperity
The University has previously created Associate Degrees in Mining and Geoscience (devised in consultation with BMA and AngloCoal), including the AD Geoscience, the AD Mine Technology and the AD Mine Operations Management.
CQUniversity has designed a coordinated regional solution strategy to address the Queensland mining skills shortage, as a template for consultation with the mining industry.