Community health advocate recognised at Bundaberg Graduation
Published on 23 April, 2012
The honorary award of Companion of the University has been conferred on health sector leader Dr Denise Powell* to recognise her extensive contribution to the Bundaberg community and local CQUniversity campus.
This award was a feature of CQUniversity's Bundaberg Graduation ceremony at the Moncrieff Theatre.

Medal winner Karen Messitt celebrates with family members
Dr Powell was also guest speaker for the event catering for 102 graduates.
Learning Management student Karen Messitt has earned both the Bundaberg Campus Graduation Medal and the Faculty of Arts, Business, Informatics and Education Medal for her academic achievements. Karen delivered a closing address on behalf of the graduates.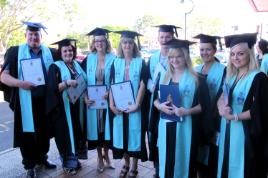 Scott, Quinn, Tania Allbon, Tanya Hamilton, Sue Hibbard, Lee Bates, Laura Purcell, Rebecca Jenner and Elizabeth Bradley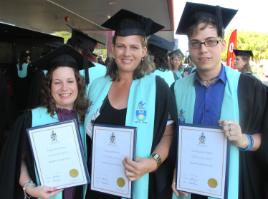 Social Work graduates Angela Atherton, Sally Banks and Daniel Wallace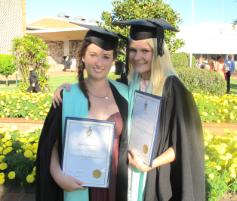 Emma Quinn and Regan Porter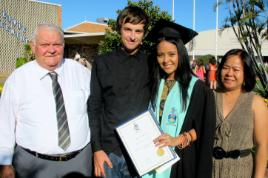 Claude Cain, Joel Lorch, Belinda Cain and Erlinda Cain
# # #
* Dr Denise Powell has three decades' experience as a General Practitioner and is currently the practice principal and business owner of Millbank Medical Practice in Bundaberg. She also has a position at the Breast Screen unit where she carries out clinical assessments, reads mammograms and performs ultrasounds. Denise's current medical interests include teaching, training and mentoring doctors and other health professionals. She was one of the original supervisors of junior doctors in general practice and has been involved in training and mentoring general practice registrars and international medical graduates for many years. Her interests have led her to senior lecturing within General Practice for the University of Queensland's Rural Clinical School, and she is also the University's Community Academic Director in Bundaberg. After completing her schooling in Central Queensland, Denise attended university before undertaking junior doctor training at the Royal Brisbane Hospital. Her postgraduate qualifications have largely been obtained by distance education, whilst working and raising a family and more latterly a "grand" family. Denise's extensive work and study career is evidence of her enjoyment of variety. She consistently empowers people, progress and quality.