Conference provides early opportunities for future chiropractors
Published on 02 May, 2013
CQUniversity first-year Bachelor of Science (Chiropractic) students each received an industry scholarship from the national Chiropractors' Association of Australia to support their attendance at the annual conference of the International College of Applied Kinesiology, held recently over three days in Cairns.
The conference attracted more than 150 delegates from Australia, as well as 14 other countries, and included orthopaedic surgeons, neurologists and dentists as well as chiropractors.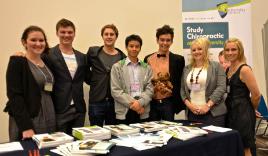 Hannah Place, Fraser McClymont, Brodie Buckingham, Debao Deng, Josiah Westbrook with PipTed (class mascot), Sam Little and Meagan Wallace at the Conference. Head of Chiropractic Science at CQUniversity, Professor Phillip Ebrall, who mentored the activity, said there was immense learning value in students attending quality scientific meetings of this type early in their learning program.
Prof Ebrall said another benefit was the rich opportunity students had to form links with industry leaders across the world.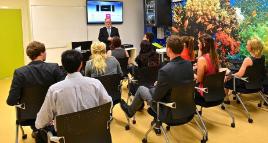 Professor Ebrall addresses the students at the CQUniversity Cairns Distance Education Study Centre. In addition to attending the formal sessions, the students participated in learning review and debrief sessions held at the CQUniversity Distance Education Study Centre in Cairns.