From Spring Hill, Louis finds springboard to Uni degree
Published on 29 April, 2013
Louis Beavis did not have to travel far from Spring Hill to find a springboard to a Uni degree. It was only a short journey to Brisbane's CBD to enrol in the Skills for Tertiary Education Preparatory Studies (STEPS) program at CQUniversity's Brisbane Campus in Ann Street.
After completing high school in Mackay around a decade ago, Louis travelled around with the construction industry and moved to Brisbane in 2010.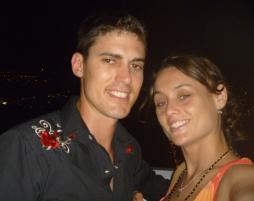 Brisbane-based STEPS student Louis Beavis with his partner Tiffany who recommended study at CQUniversity
He met his now partner Tiffany, who is currently completing a Bachelor of Psychology with CQUniversity via distance education, and she recommended he consider CQUni for study.
Louis enrolled in STEPS based at CQUniversity Brisbane Campus to build his pathway towards a Physiotherapy career.
"Because Physiotherapy is a very competitive field, I am committed to achieving the best possible results in all my STEPS courses, in order to successfully earn entry in 2014," he says.
"Essay writing has been a feature of STEPS. Most undergraduates haven't had the luxury of completing this course and gaining vital tools necessary for constructing such a common assessment item; what an advantage I have!"
The next STEPs testing sessions (for 2013 Term 2 entry) will be held at the Brisbane, Bundaberg, Gladstone, Mackay, Noosa and Rockhampton campuses on May 8. Details are via www.cqu.edu.au/steps . This is the first year STEPS has been offered at Brisbane Campus.