Kevin keen to reduce pest risk from marine ornamental trade
Published on 26 March, 2012
Kevin Erickson has established himself at CQUniversity Gladstone to pursue his PhD in marine ornamental biosecurity, under the guidance of professors Marnie Campbell and Chad Hewitt.
The researcher notes that more than 250 marine species have been imported, often unintentionally, into Australian waters from around the world.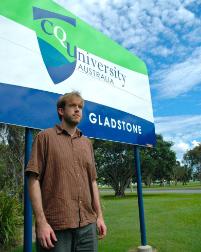 Kevin Erickson is based at CQUni Gladstone
"While many of these species remain unobtrusive, it is estimated that one in each six to 10 imported marine species will become a pest," he says.
With a background as a marine aquatic pathobiologist, Kevin has been awarded a 2012 Endeavour Postgraduate Scholarship to progress his research through to April, 2015.
You can find out more information about Kevin at his website: www.KevinPErickson.com
Biosecurity is a global concern and a priority in maintaining Australia's oceanic coasts and reefs.
Kevin will focus on management and risk prevention efforts to ensure imported marine ornamental animals, algae and seagrasses do not establish a permanent wild foothold within Australia's coastal waters. He will also investigate the extent to which these organisms act as pathways of foreign disease transmission.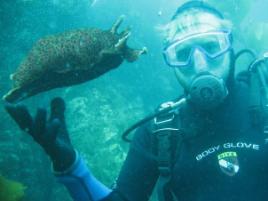 Kevin in his natural habitat exploring under water
"Having been an aquarist and marine science director, I see the need for regional and national biosecurity efforts that focus on the marine ornamental trade. Determining the status of a marine species is a critical part of the process when assessing the potential risks of imported marine plants and animals. They are potential carriers of diseases and parasites. These imported diseases and parasites may transfer to other species while they share common water," Kevin says.
During his Award, Kevin will take trips to various parts of Queensland, Canberra and Sydney to focus on collections, public aquariums, aquarium stores, imports/exports, and hobbyists. He will also collect specimens to analyze for disease.
Kevin has a Bachelor of Science in Marine Biology from Florida Institute of Technology and an Master of Science in Aquatic Pathobiology from the University of Stirling. He is a member of the American Fisheries Society, Marine Aquarium Council, Association for Zoos and Aquariums and the Marine Aquarium Societies of North America where he currently serves as the Vice President.
Kevin made a name for himself a few years ago, away from marine studies, when he got the chance to put into practice some of his experience as an Eagle Scout with the Boy Scouts of America. He helped save the life of a man who fell off a cliff onto the rocks below and earned a Letter of Commendation from the Los Angeles County Fire Chief.
As a younger man in 2003, he was awarded the Presidential Freedom Scholarship from the White House for outstanding leadership and service to his community.
* The Australia Endeavour Awards are the Australian Government's internationally competitive, merit-based scholarship program providing study, research or professional development opportunities between Australia and the world. Visit http://www.australiaawards.gov.au/ for more information.