Theatre student has foot in the door with Sydney production of 'Annie'
Published on 16 September, 2011
First-year student Morgan Garrity must have done something to impress Australian theatre luminary Chloe Dallimore, during the recent production of Sweet Charity, at the Central Queensland Conservatorium of Music based at CQUniversity Mackay.
Morgan assisted Chloe during the Mackay production and now, on Chloe's recommendation, she's been offered a job as 'assistant to the director' on Sydney's professional season of Annie.
"I am so excited to be given the chance to work with some of Australia's greatest stars of musical theatre!" Morgan says.
"I feel so incredibly lucky to have this opportunity and I really can't thank Chloe Dallimore enough for helping me.
"I can't help but be thankful as well to the Bachelor of Theatre course for setting us up with such great industry contacts; it really is an experience that I wouldn't have been able to have anywhere else."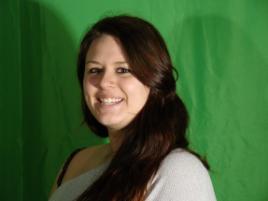 Morgan Garrity, looking forward to working on a professional production
Annie features Chloe alongside other stars including Anthony Warlow, Todd McKenney and Nancye Hayes.
The popular Broadway musical will be staged at Sydney's Lyric Theatre from January onwards.