CQUni answers call for State's first chiropractic course and first outside capitals
Published on 04 August, 2011
CQUniversity has answered calls for a Queensland-based chiropractic course by appointing internationally-recognised academic Phillip Ebrall as Professor of Chiropractic...
Announcing the appointment, Vice-Chancellor Scott Bowman says the new Chiropractic Science degree due to be offered from Mackay Campus will be the first Australian program located outside a capital city when it starts in February 2012.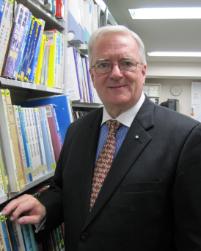 Newly appointed Professor of Chiropractic Phillip Ebrall
"Queensland has been crying out for a chiropractic course as there is no course in Brisbane or anywhere else in Queensland," Professor Bowman says.
"This will be an exciting addition to Mackay's growing suite of Allied Health programs, including the complementary disciplines of Medical Imaging and Sonography, which will provide professionals to service Queensland's rapidly growing population hotspots."
Dr Simon Floreani, Chiropractor and National President of the Chiropractors' Association of Australia (CAA), which is the peak professional body representing chiropractors in Australia, said he welcomes the commencement of Australia's first regional university chiropractic program.
"Strong growth in regions like Central Queensland is increasing the demand for many health workers, chiropractors included," he says.
"The new educational facilities at the Mackay Campus will support high quality education tailored to the specific needs of regional communities as well as for rural and remote populations. This will equip graduates to deliver a high standard of care within their own practices, or in a multidisciplinary setting alongside other health practitioners, to improve patient outcomes in their community.
"The CAA also welcomes the development of a research culture to increase opportunities for evidenced-based research to support the impact of allied health care, including chiropractic, on the health and well-being of all Australians."
CQUniversity's Dean of the School of Medical and Applied Sciences, Professor Grant Stanley, said the new chiropractic program was being developed with significant input from industry, especially chiropractors throughout Capricornia.
He said one of Professor Ebrall's first activities would be to expand the consultation process with regional chiropractors to ensure the program would be broadly representative of regional need, to ensure its graduates would make a significant contribution to the delivery of quality health care throughout Central Queensland.
Professor Ebrall will have the key responsibility to finalise the design and manage the implementation of the new Chiropractic Science program. He comes to CQUniversity with over 21 years' experience in the design, delivery, management, and quality audits of accredited chiropractic programs in Melbourne, Tokyo and Seoul, and a new program now in its second year in Kuala Lumpur. He continues as an Adjunct Professor with the International Medical University in Malaysia and as Education Advisor to the Tokyo College of Chiropractic.
In the last 12 months, Prof Ebrall has received the Meritorious Service Award from the Chiropractors Association of Australia (Victoria), the inaugural Distinguished Service Award from the Tokyo College of Chiropractic, and the 2011 Honour Award from the Japanese Association of Chiropractors.
Three years ago he was awarded as an Australian Chiropractor of the Year, and during his career has three times won an award for authoring the most significant contribution to the chiropractic literature in a particular year. He said activities and awards such as these bring a new energy to CQUniversity's concepts of cross-cultural competence through opportunities to strengthen the work-integrated learning of chiropractic students with study-tours to chiropractic institutions in other countries and placement in their associated chiropractic clinics.
In addition to this energetic schedule, Professor Ebrall has published some 80 papers in the peer-reviewed, indexed literature and currently serves as an elected director of the peak body representing chiropractic in Australia, the Chiropractors Association of Australian (National), as Assistant Editor of the Chiropractic Journal of Australia, as Facilitator of the Education field of the Australasian College of Chiropractors, and as Chair of the Human Research Ethics Committee of Northern Health, a significant, multi-campus health service in Northern Melbourne, his former home city.
Professor Ebrall said a number of expert chiropractic educators from around the world have agreed to provide their specific expertise to develop content for the curriculum.
He said this would ensure the total program embraced the newest and strongest learning materials, especially in the developing community health field of wellness and wellbeing.
"CQUniversity recently opened purpose-built diagnostic imaging laboratories on the Mackay campus and these will support learning within several courses of the chiropractic program.
"For the first time chiropractic students will learn alongside student sonographers for imaging soft-tissue (muscles and tendons), as well as using state-of-the-art direct-to-digital imaging of the spine, including CT."
Professor Ebrall is working closely with CQUniversity's architects and property developers to finalise the design of the dedicated chiropractic learning spaces, including a University health clinic.
He said the University's commitment to leading-edge design of learning environments, which incorporated quality technology, would allow the development of collaborative learning laboratories. In turn this would facilitate small groups of students to more deeply engage with the evidence-based curriculum.
Professor Stanley also emphasised the research opportunities that are being created around the new program. He said that not only was he encouraging intra-school inquiry, such as between chiropractic and diagnostic imaging, but also multi-discipline clinical research in the region's health centres and within each discipline's work-integrated learning clinics.
He said it was essential for the scholarship of the new chiropractic program in particular to be driven by evidence gathered through clinical research.
Professor Ebrall said this culture of research and scholarship would pervade the chiropractic program, its staff and its students so that its graduates would be recognised as competent consumers and limited producers of research relevant to the discipline.