Noosa-hosted summit IDs seven steps to save koalas
Published on 16 August, 2012
The recent Sunshine Coast Koala Summit hosted by CQUniversity Noosa Campus has identified seven steps to save koalas.
The Summit brought together government representatives, community stakeholders and expert scientists, including CQUniversity academic Gail Tucker. Dr Susan Davis from our School of Education also presented as a community representative on behalf of Noosa Biosphere.
Participants cooperated to identify actions to conserve wild koala populations on the Sunshine Coast, and to form the basis of a regional Koala Management Plan.
Koala conservation projects initiated by CQUniversity's Koala Research Centre and Gold Coast City Council were acknowledged for their particular relevance - not only in terms of the collaborative approach they have adopted, but also in respect to their output of a contemporary and active information base that should inform koala management decisions on the Sunshine Coast.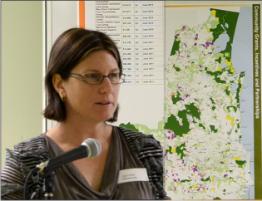 Gail Tucker addresses the Summit
There was broad agreement that:
action must be taken now, or important koala populations are doomed to extinction;
there are multiple threats to koalas, and all must be adequately addressed in a management plan;
collaboration is key to achieving successful outcomes;
koalas have a significant economic value to the Coast, particularly for tourism
Consistent themes emerged from group workshops and the following actions ranked highly in terms of perceived priority for Sunshine Coast Council:
All available data (koala hospital records, community generated sighting data, regional ecosystem mapping) needs to be compiled centrally and assessed, to provide an accurate snapshot of the koala situation in the region;
Gaps in our knowledge - likely to be in respect to koala distribution, abundance and health - need to be filled by completion of comprehensive field assessments;
The advice of koala research scientists is needed in drafting an effective Koala Strategy;
Koala recovery and management objectives should inform the Sunshine Coast Council's new planning scheme;
Pilot koala recovery projects should be trialled within the Sunshine Coast region, with Noosa National Park to be one of the focal points;
Proactive engagement is needed with state and federal governments, business and industry, special interest and expert groups, and the broader community, for project support; and
Move now, with current resources, to fix koala mortality hotspots and reduce casualties
About the Sunshine Coast Koala Summit:
Four koala conservation organisations that are active in the region co-hosted the event:
Sunshine Coast Koala Wildlife Rescue, Moreton Bay Koala Rescue, Koala Action Pine Rivers and Koala Diaries. Volunteers from these groups made up the organising committee.
The Summit was sponsored by the Sunshine Coast Council, Noosa Biosphere Ltd, CQUniversity, Noosa News and Sheraton Noosa Resort and Spa.