Safety professionals converge on Rockhampton Campus
Published on 21 October, 2011
CQUniversity has hosted a session in Rockhampton so safety managers can get up to speed with new workplace health and safety laws being 'harmonised' across state borders.
The session included updates to the new Work Health and Safety Act taking effect from January 1, 2012.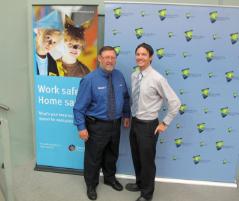 Workplace Health & Safety specialist Peter Tyler is welcomed by CQUniversity's Sean Peckover as he prepares to present a 'harmonisation of laws' session
Participants from a range of government, business and industry sectors packed one of the large campus lecture theatres to hear from specialists, including Peter Tyler, the Principal Advisor - Industry Liaison and Engagement for Workplace Health and Safety Queensland.
The Rockhampton event also provided a great opportunity to highlight the University's OHS and Accident Investigation degrees. LINK to Bringing a degree of care to accident investigation
The University worked in partnership with Workplace Health and Safety Queensland (WHSQ) as part of National Safe Work Australia Week. LINK HERE for details on National Safe Work Australia Week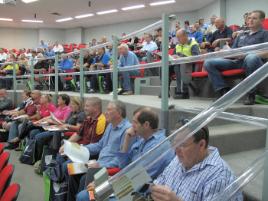 Part of the audience at the Workplace Health & Safety event on Rockhampton campus