Alumnus Shakir recognised as an 'MVP'
Published on 24 May, 2013
CQUniversity Sydney graduate Shakir Karim is proud to have received more career recognition from his employer SAI Global; this time in the shape of a 'Most Valuable Player for March and April 2013' reference in a company newsletter.
Over a period of more than five years, Shakir has often been recognised for his 'valued' work as a member of the NSW Professional Services team, where his daily responsibilities include court filing, stamping and registration work.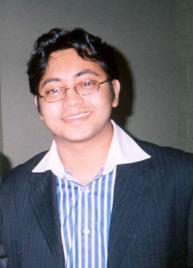 Shakir Karim
SAI Global provides organisations around the world with information services and solutions for managing risk, achieving compliance and driving business improvement.
Shakir has been juggling his work at SAI Global with research towards his Master of Informatics, for which he is analysing Bangladeshi consumers' E-Commerce security and privacy satisfaction in small to medium-sized business, under the supervision of Dr Ergun Gide.
The Bachelor of Information Systems (2006) and Masters of Information Systems (2008) graduate grew up in Dhaka, the capital of Bangladesh, before moving to Australia to study with CQUniversity.