Fresh approach to boost midwifery numbers in regional Queensland
Published on 20 February, 2013
Educating midwives for regional Queensland will be the ongoing focus for CQUniversity's new Midwifery program, as commencing students learnt from the industry's best at 'meet and greet' sessions recently.
The 'meet and greet' sessions were part of residential schools for students commencing the Graduate Diploma of Midwifery - a unique program designed as an educational pathway for registered nurses to become midwives.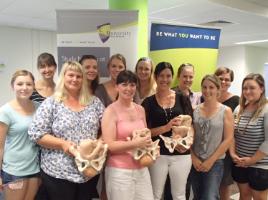 Pictured at the Noosa event: CQUni Midwifery students - Madeline Hine, Eliza Crowley, Raeleen Carey, Bronwyn Osmond, Leisha Sanford, Lorraine Johnson, Amber Penny, Janelle Ford, Jacqueline Antwis, Jodie Lee West, Melissa Devonshire, Carly Reincke
CQUniversity's new Head of Program, Midwifery, Associate Professor Moira Williamson**, said the fresh batch of midwifery students for 2013 will be the first to experience a relaunched program, helping them gain midwifery knowledge and skills relevant to regional Queensland.
Assoc Prof Williamson said the Continuity of Care (CoC) and rural and cultural diversity aspects of the program will prepare students for a range of working environments.
"The Continuity of Care experience is a learning strategy where a student midwife follows a woman through her journey of pregnancy, labour and birth and for a time after birth in a partnership approach," Assoc Prof Williamson said.
"Continuity of Care experiences are part of the Australian Nursing and Midwifery Council guidelines for midwifery education and an underpinning philosophy of all midwifery programs."
During the 18-month program, students will be required to have at least 36 hours of associated midwifery rural practice experience and at least 36 hours of midwifery-related 'culturally diverse' or 'Indigenous care' experience.
CQUniversity Midwifery students can access new resources and state-of-the-art equipment including the new nursing and midwifery labs built at Noosa and Mackay campuses last year.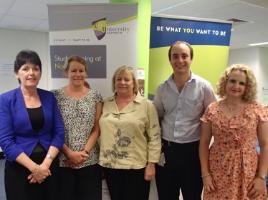 CQUni academics with a guest L-R at the Noosa event: Jenny Davis (Midwifery/Nursing Lecturer); Robyn Buis (Midwifery Clinical Facilitator); Associate Professor Moira Williamson (Midwifery Head of Program); Keppel Schafer (Midwifery & Neonatal Educator, Nambour General Hospital), Professor Melanie Birks (Deputy Dean, School of Nursing & Midwifery)**Associate Professor Moira Williamson has had extensive midwifery and health care experience both before and during her previous employment at the University of Wollongong where she worked as Senior Lecturer and Sub Dean of the Faculty of Health & Behavioural Sciences. She has research interests in Midwifery practice and curriculum development, the impact of pregnancy, birth and parenting on fathers and dealing with diversity in midwifery practice.
...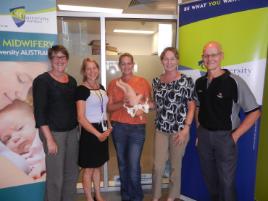 Mackay Hospital & Health Service staff L-R Rymer Tablou (Nursing/Midwifery Director), Leslie Jenkins (Nurse Educator) student Kobi Haddow, Seana Clarke (Unit Manager) and Greg Coulsen (Nurse Practitioner).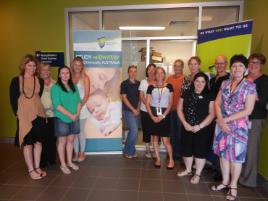 At the Midwifery Industry meet and greet were L-R Linda Barrow, Associate Professor Moira Williamson, Claire Bayliss, Donna Drury, Gwen Cadan, Susan Harris, Leslie Jenkins, Kobi Haddow, Seana Clarke, Susan Edwards, Greg Coulsen, Jenny Davis, Rymer Tablou.