Brett gains the 'write stuff' to cope with dyslexia, now a confident teacher
Published on 16 January, 2012
Mackay's Brett Comerford longed to become a teacher but struggled with reading, writing and spelling.
It was not until the age of 37 that he was brave enough to enrol in a teaching degree. Later that year he was diagnosed with dyslexia.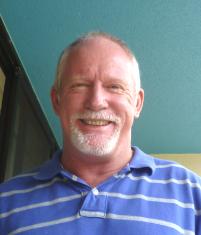 Mackay's Brett Comerford
Brett says CQUniversity gave him the support he needed to cope with studying as a dyslexic student and he's now a successful primary school teacher able to help other students gain the confidence to succeed.
For further information on dyslexia contact the Australian Dyslexia Association: http://www.dyslexiaassociation.org.au/
Since completing his original Bachelor of Education (Early Childhood) degree, Brett has graduated from CQUniversity Mackay with a Graduate Diploma in Learning Management (Special Education).
He's presently undertaking postgraduate studies in 'Multisensory Structured Learning Education' through the Australian Dyslexic Association, to assist students who have dyslexia (either as children or adults).
Brett's learning journey has been featured in the January 2012 edition of Australia's Take 5 magazine.
"In the first year of my university degree I remember seeking the help of the University Counsellor as I was having difficulty managing all the reading, having lots of headaches and feeling like the only thing to do was to drop out of Uni," he says.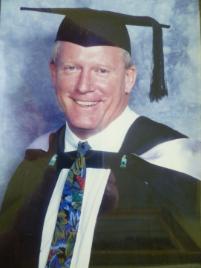 Brett in his graduation robes
"With her help I was diagnosed and given all the support needed to cope. I was unaware of what the Uni could actually offer me by way of increasing the size of my text books, having them photocopied onto blue paper, given breaks during exam time etc. The diagnosis opened up a new world as it showed me that I could learn.
"Being born in 1961 and raised in a small country town, assistance wasn't readily at hand. My earliest recollection of learning was filled with difficulty in reading, writing, spelling let alone maths problems.
"I would rather have died than to read out aloud. School life was hell on earth for me. I day dreamed and often got into trouble because I could not do the work. I was sent to the office on a daily basis to get the cane. I would take a long time to walk to and from the office and even though it meant getting the cane, it was still better than staying in the classroom struggling through my school work.
"My teachers would often say that I was a 'dumb, stupid, lazy, good for nothing no hoper'. I can still remember the day that my Year 4 teacher said in front of the class: 'Comerford, all you will be good for is painting white lines in the middle of the road'.He had me repeat that year which was embarrassing. I got no extra help at school, just more caning.
"I was failing high school in a big way; the Deputy Principal was a family friend and he knew the store manager at a local sugar mill. He kindly gave me a start as a cadet purchasing officer. I was way out of my comfort zone as I wasn't sure how I was going to handle all the paper work and the maths side of warehousing but I did.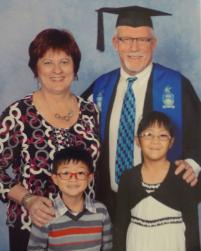 Brett and family at his most recent graduation
"I wanted to succeed as going back to school was not an option for me. So I learnt how to get out of doing things I knew I couldn't handle; I found ways to cover up my shortcomings. From the sugar mill I went to a coal terminal doing similar work just on a larger scale. Having a computerised system helped me to cope with the work. I had no job satisfaction but felt I wasn't capable of doing anything else. My wife always believed I would make a great teacher but I wouldn't leave my job in fear of failing at Uni."
At the age of 36, Brett was retrenched. He was devastated but his wife felt it was a blessing in disguise as he now had no excuses about giving Uni a go.
"Deirdre financially supported me and I went to Uni as a mature age student at the age of 37. My wife always said I was dyslexic but it took Uni to open my eyes and get the help I needed."
Brett graduated from his initial degree in 2002 and was immediately employed as a teacher.
"I currently teach Year 5 and dyslexia never leaves you; it is with you for life. I use lots of strategies to compensate on a daily basis. I often talk to my students about my childhood and dyslexia. Wearing coloured lenses in my glasses invites questions from students. So I get the opportunity to explain about Scotopic Sensitivity Syndrome and how the coloured lenses help me cope. Each year I get my students to Google dyslexia so that they have an understanding of my challenge.
"I am faced each day with children who have learning difficulties. I have a special affinity with them; I know how it feels to struggle to learn. Keeping their self-esteem intact is of utmost importance to me.
"Living with dyslexia and being a school teacher has driven me to make changes for students who have dyslexia.
"What failed me at school makes me more determined not to let that happen for students in my care. I now feel that my dyslexia is not a disability but a gift - instead of being frustrated I feel liberated."