Rocky event promotes new 'Ageing with Vitality' guide
Published on 20 October, 2011
Rockhampton residents keen to use or promote a new Ageing with Vitality guide are encouraged to attend a free seminar, from 11am to Noon on Thursday November 3 at the teaching room of the CQUniversity Sports Centre on Rockhampton Campus.
This seminar will promote a new Ageing with Vitality guide to healthy active living, with tips, real-life stories and sample exercise to make being healthy and active fun. The guide suggests everyday activities and exercises for strength, balance, flexibility and endurance that can be done in the home.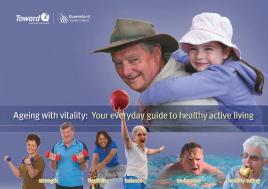 Presentations will be made by Health Promotion Officer Mirko Graovac from Queensland Health, and CQUniversity's Associate Professor (Exercise and Sport Science) Peter Reaburn.
Lunch will be provided for free after this seminar and RSVPs are via Mirko on 07 4920 6879.